Pinball
If you're using a text-only web browser, you may go to the pages that will make more sense now.
I've always liked pinball, but I was never a fanatic until I bought an old, broken pinball machine in 1993 as a winter fix-it-up project. The
Bally Bazaar has a simple playfield, featuring Zipper Flippers that slide toward each other, blocking the ball from draining. The backglass has a Middle-eastern Bazaar theme, which really doesn't have much to do with the playfield. That project didn't take too long, and I was really hooked. I found that this machine, besides being a lot of fun, makes a great piggy bank!
After a few years of dropping change into the Bazaar, I started shopping for a new game, and in 1995 I picked up a Black Knight at an auction.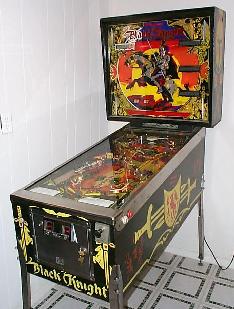 The Black Knight's really a lot of fun. It was one of the first games to feature sound and a multi-level playfield. Another unusual feature are the Magna-Save electromagnets that are used to prevent the ball from draining.
This machine was in pretty good shape mechanically, and has a great playfield. The backglass, though, is scratched, and has a really bad touch-up paint job. The game has recently developed some electronic gremlins, but rec.games.pinball has been a great source of information and inspiration.
I sold the Bazaar when I moved to Turkey in 1998, and put the Black Knight in storage. In 2001, when I moved to Croatia I sold the Black Knight.
Here are some links to pinball resources.


Pinball Archive


Mikko Tsokkinen's Pinball Page


Ask Uncle Willy