598 HISTORY OF BROOKLYN.
PART VI. HISTORY OF THE FIRE DEPARTMENT OF BROOKLYN.
WESTERN DISTRICT, 1785-1869.1
The first fire company within the present city of Brooklyn was organized on the 30th of April, 1785, at a meeting of the freeholders and inhabitants, held at the dwelling of the Widow Margaret Moser, who kept a house of entertainment in what is now Fulton street, near the ferry. The following persons were appointed members of the company, viz: Henry Stanton, captain, Abraham Stoothoof, John Doughty, Jr., Thomas Havens, J. Van Cott and Martin Woodward, all of whom were commissioned for one year. The meeting also resolved to raise the sum of £150 by tax, for the purpose of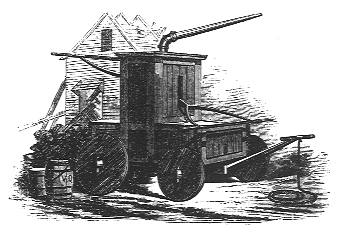 BROOKLYN'S FIRST FIRE-ENGINE.
procuring a fire engine,2 and it was further enacted that the firemen should regularly play, clean, and inspect the engine, on the first Saturday in each month, and that in case of the non-attendance of any of the said firemen, upon
---
1 We have drawn liberally on a very interesting manuscript history of the Fire Department by Mr. Wm. E. Sprague, a portion of which was published in the Brooklyn Corporation Manual for 1863.
2 This engine, the first ever used in Brooklyn, was built by Mr. Jacob Roome of New York, the first fire engine builder of that city, who had at that time just commenced the business, all former engines having been imported from England. It was about eight feet in length, three feet in width, two feet six inches deep, and stood about three feet high. The box was square, heavy, without ornament and made