© Copyright 1995-2017, Clay Irving <clay@panix.com>, Manhattan Beach, CA USA
Subscribe to my feed for ingredients
Add to My Yahoo
Chile Jalapeño
Jalapeño Characteristics
Pronounced: hah-lah-PEH-hyoh
Scoville Units: 10,000 - 25,000
Chile Jalape&3241;o is a are broad, tapering, thick-fleshed chile that measure about 2 1/2 inches long. The jalapeño is usually dark green, although ripe red ones are occasionally available. It is extremely hot with a distinctively sharp flavor. Jalapeños are sold fresh or canned and pickled. The Jalapeño is named after Jalapa, the capital city of Veracruz, Mexica.
Jalapeños may be frozen for later use. Wash them and toss them into a ZIp-lock bag and set them in the freezer. They may blanched for 5 minutes in simmering water and drained before freezing.
Varieties

Fresh whole chiles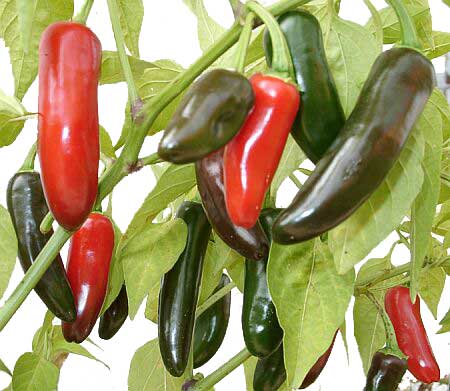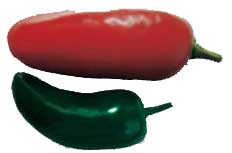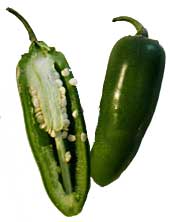 Chiles Jalapeño en Escabeche (Pickled Jalapeños)
Jalapeño en escabeche are probably the most ubiquitous condiment on the Mexican meal table. They are whole jalapeño peppers pickled in vinegar with onions and carrot slices.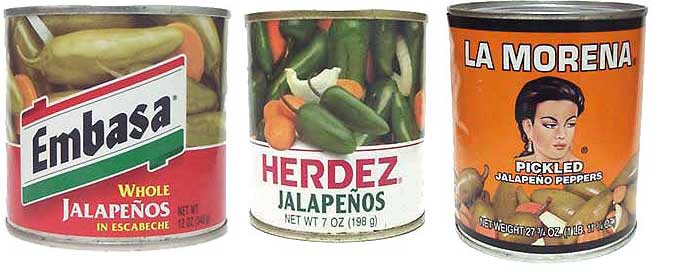 Rajas de Jalapeños (Seeded, sliced Jalapeños)
Rajas de Jalapeños are seeded, sliced jalapeños pickled in vinegar with onions and carrot slices.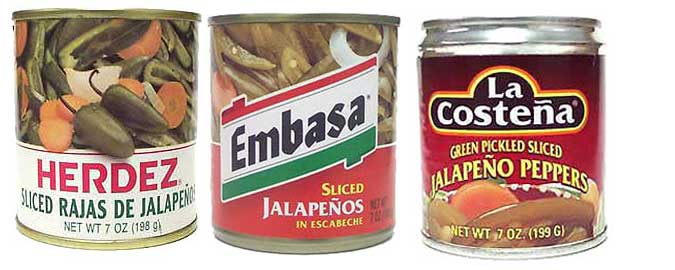 Jalapeño Powder
Ground dried jalapeño is used as a spice.