© Copyright 1995-2017, Clay Irving <clay@panix.com>, Manhattan Beach, CA USA
Subscribe to my feed for ingredients
Add to My Yahoo
Lime Leaves
Lime Leaves Characteristics
The leaves of the kaffir lime tree are a dark green color with a glossy sheen. They come in two parts: the top leaflet is lightly pointed at its tip and is attached to another leaflet beneath that is broader on its upper edge. The size of the leaves can vary quite a bit, from less than an inch to several inches long. The larger leaves are usually darker in color. In recipes that call for them, estimate the number to use according to their size, with the average single leaflet (detached from its double) of about two inches long and an inch wide equaling one leaf. Add more or fewer leaves according to the sizes in the batch you purchased.
Kaffir lime leaves are precious to many Thai dishes, from soups and salads to curries and stir-fried dishes. They are the ingredient that blends marvelously with lemon grass and lime juice in dtom yam to give the soup its wholesome lemony essence. In soupy dishes, add the leaves whole or torn into smaller pieces, using them as one would bay leaves to flavor broth or stew. For dishes in which they are a component to be eaten, such as salads, stir-fries and dry or custard like curries, cut them in very fine needle-like slivers, so that their strong bouquet can be more evenly distributed. The slivers also provide a pleasing texture and appearance.
To sliver kaffir lime leaves finely, stack three to four leaves of similar size together and slice them very thinly with a sharp knife. It is faster to cut diagonally , which gives the hands better leverage, or roll a few leaves at a time into a tight roll before slicing. If at first this task seems onerous, practice until you develop a sense of how to work the leaves. It is a good contemplative exercise and a way to become present with a wonderfully aromatic member of our universe. You can also try cutting the leaves with a pair of scissors, but I find this can be a slower process because you usually must cut one leaf at a time in order to get fine slivers. You may be tempted to mince or chop the leaves instead, but these methods add the kaffir lime leaf flavor differently and can overwhelm the more delicate flavors in a dish. Large slivers can be equally overpowering. So, it is best to use fine slivers about an inch long, as Thai chefs have done for generations, to add kaffir lime leaves in the most pleasing balance of flavor, texture and presentation.
Varieties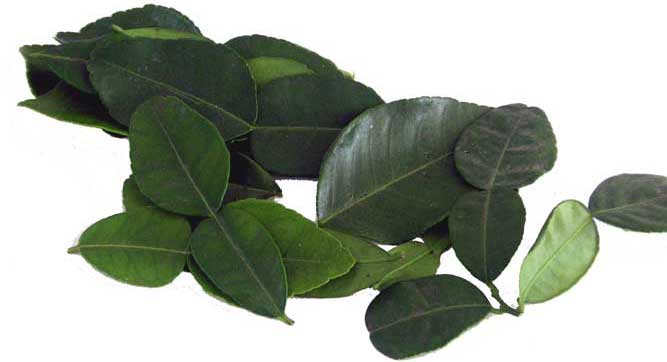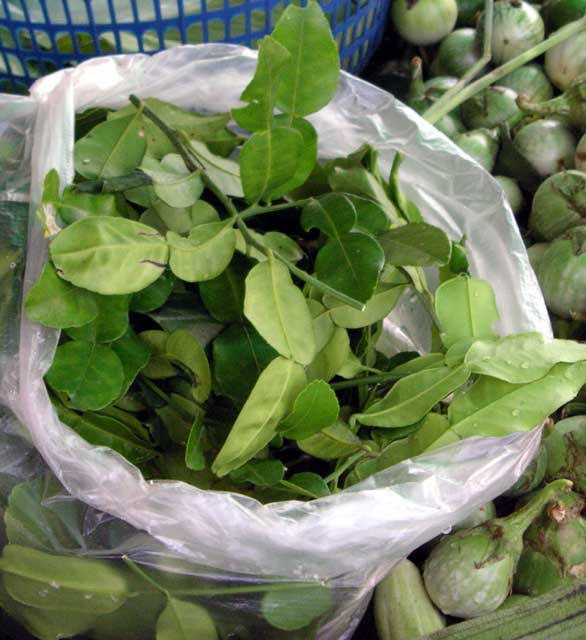 Lime leaves at a market in Thailand.