© Copyright 1995-2017, Clay Irving <clay@panix.com>, Manhattan Beach, CA USA
Subscribe to my feed for ingredients
Add to My Yahoo
Passata
Passata Characteristics
Passata is a cooked tomato concentrate -- For use in small amounts, you might prefer to substitute tomato paste rather than going to the trouble of making a batch of passata. Two Passata recipes are provided:
Passata
2 or 3 oz of pancetta, chopped
1 carrot, chopped fine
1 onion, chopped fine
1 celery stalk, chopped fine
1.5 lb of boneless pork shoulder
2 Tbsp olive oil
1 cup very dry red wine
1 cup tomato sauce
1 can tomato paste

Blend the pancetta, carrot, onion, and celery in a food processor and mill until fully chopped. Place the boneless pork shoulder into a pan with the olive oil, and add the mix of chopped ingredients. Add a cup of very dry red wine and a cup of tomato sauce, and cook until pork is tender and liquid reduced, about 1-1/2 hours. Remove the pork and use for anything you like. Add 2 or 3 tablespoons of tomato paste at a time and cook until drying. Add more, and do this over and over until the entire can is incorporated.
The resulting passata will be brownish, shiny, and very concentrated, and can be used for many different dishes. It should be refrigerated in a glass container, and will keep for several weeks.
Salsa Di Pomodoro Passata (Smooth Tomato Sauce)
2 lb Ripe tomatoes
1/4 c Olive oil
1 lg Onion, finely chopped
2 Cloves garlic, minced
1 ts Sugar
1/4 c Fresh basil, chopped
Salt and fresh ground pepper to taste

If using plum tomatoes, cut in half. If using large tomatoes, cut in quarters. Place tomatoes in a non-reactive saucepan. Cover and cook for 15 to 20 minutes or until soft. Once soft, pass tomatoes through food mill and reserve puree in a bowl. Pour olive oil into a medium skillet and set over medium heat. Add onion and garlic and saute for 2 to 3 minutes or until golden. Add tomato puree, sugar and basil. Season with salt and pepper to taste. Cook until sauce is reduced and thickened to your personal liking, about 5 to 10 minutes. Makes about 2 to 3 cups.
Varieties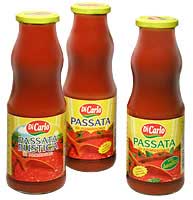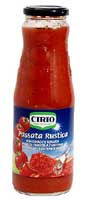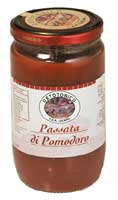 ---
Search for Recipes, Search using Google, or Return to Cookbook Index