Burger Recipes
© Copyright 1995-2017, Clay Irving <clay@panix.com>, Manhattan Beach, CA USA
Classic Hamburger
Recipe from: SAVEUR, July/August 2002, p36
Servings: 1

The higher the meat's fat content, the juicier the burger will be but the more it will shrink; we prefer 80 percent lean beef. This hamburger may be grilled instead of panfried.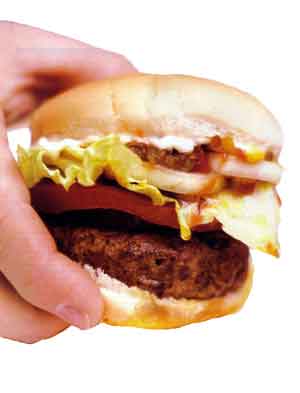 vegetable oil
¼ pound ground beef or chuck
salt and freshly ground black pepper
1 soft white hamburger bun, split
¼ inch thick slice large ripe tomato
3 to 4 sliced pickles, optional
1 small leaf iceberg lettuce
¼ inch thick slice peeled onion

Lightly grease a small nonstick skillet with oil, then heat over medium-high heat.

Gently shape meat into a 3 ½ inch patty (don't overhandle meat, or it will toughen) and season generously with salt and pepper.

Sear patty until well browned on both sides, turning once, about 1 minute per side. Reduce heat to medium-low and continue cooking 1 minute more per side for medium rare.

To assemble, put patty on bottom bun, the top with (in this order) tomato, pickles (if using), lettuce, and onion. Spread ketchup, mustard, mayonnaise, and/or other condiments, alone or in combination, to top half of bun, if you like, and place bun on onion. Serve with fried onion rings, french fries, or potato chips, if you like.

---
Search for Recipes, Search using Google, or Return to Cookbook Index