Burger Recipes
© Copyright 1995-2017, Clay Irving <clay@panix.com>, Manhattan Beach, CA USA
Bacon Cheeseburger
Recipe from: SAVEUR, July/August 2002, p38
Servings: 1

There are many ways to make a bacon cheeseburger, says SAVEUR editor-in-chief Colman Andrews — who holds the sandwich in almost religious regard — but this is his favorite recipe. tamari, which is aged soy sauce without added wheat, is available in Asian markets and many supermarkets. Lightly crusty, oval Portuguese rolls are sold mostly on the East Coast; if they are unavailable, other rolls may be substituted.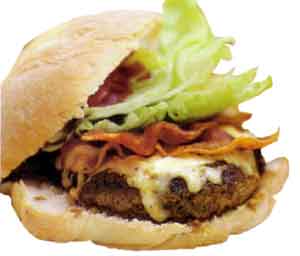 2 slices bacon
½ pound. ground beef or chuck
salt
1 teaspoon. tamari
1 teaspoon lemon juice
freshly ground black pepper
2 tablespoon. grated white cheddar cheese
1 Portuguese or other crusty white roll, split
2 leaves iceberg lettuce (optional)

Preheat broiler. Fry bacon in a medium ovenproof skillet over medium heat, turning often, until crisp, 5-6 minutes. Transfer bacon to paper towels to drain and set aside. Set skillet with rendered fat aside.

Gently shape meat into a 4½ patty (don't overhandle meat, or it will toughen), then season generously one side with salt and pepper.

Return skillet with bacon fat to stove and heat over medium-high heat. Sear patty, salt side down, until botton is well browned, about 1 minute. Flip patty, spoon tamari and lemon juice on top, generously season with salt and pepper, and sear until botton is well browned, about 1 minute. Reduce heat to medium-low and continue cooking an additional 2 minutes per side for medium rare. Put cheese on top of patty and broil until melted but not browned, about 1 minute.

To assemble, put patty on bottom roll, arrange bacon on top of cheese, and top with lettuse (if using). Spread barbecue sauce, ketchup, and/or other condiments, alone or in combination, on top half of rolls, if you like, and place top roll on lettuce. Serve with fried onion rings, french fries, or potato chips, if you like.

---
Search for Recipes, Search using Google, or Return to Cookbook Index