Burger Recipes
© Copyright 1995-2017, Clay Irving <clay@panix.com>, Manhattan Beach, CA USA
Tillamook® Southwest Chili Burger
Recipe from: Tillamook® advertisement in the Los Angeles Times, 27 Jun 2007, © 2008 Tillamookcheese.com recipe section, All Rights Reserved.
Servings: 8 burgers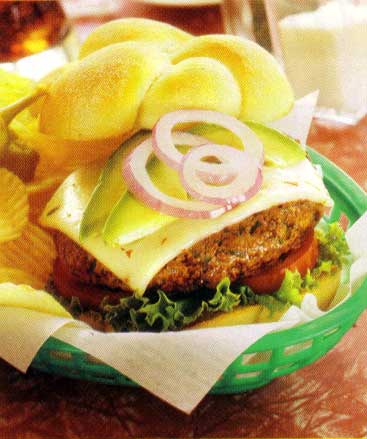 2 pounds ground chuck
½ cup minced fresh cilantro
4 teaspoons ground chili powder
1 teaspoon ground cumin
1 ½ teaspoon salt
½ teaspoon ground black pepper
1 pound sliced Tillamook® Pepper Jack
8 hamburger buns

Garnishes:
Guacamole Mayo, sliced avocado, tomato, onion, lettuce, pickled jalapeño slices

Combine meat, cilantro, chili powder, cumin, salt and pepper in a large bowl and mix well. Form 8 equal patties, about ¾ inch thick.

Grill burgers on oiled grill rack over medium-hot coals until desired doneness, about 4 minutes per side for medium. Arrange cheese slices evenly over burgers during final minute of cooking time. Serve in buns with desired garnishes. (For Southwest Chili Turkey Burgers, substitute ground turkey for ground beef, and add ⅔ cup very finely crushed tortilla chips to the burger mixture.)

Guacamole Mayo

Servings: 2 cups

2 avocados or 1 cup chunky guacamole
4 teaspoons fresh lime juice
1 cup mayonnaise
1 teaspoon ground cumin

Peel and pit avocado and place in small bowl, add lime juice and mash until chunky. Stir in mayonnaise and ground cumin. Store in refrigerator up to 2 days.

---
Search for Recipes, Search using Google, or Return to Cookbook Index