Burger Recipes
© Copyright 1995-2017, Clay Irving <clay@panix.com>, Manhattan Beach, CA USA
Best Onion Hamburgers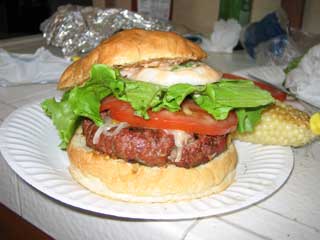 Click on image to enlarge (Photograph by Devon Trueit)
1 ½ pounds of hamburger
1 head of lettuce
1 sliced medium onion
Worcestershire sauce
Tabasco sauce
1 pouch of onion soup mix
4 cheddar cheese slices
1 large tomato
4 Kaiser style buns
Pam cooking spray

You really only need ½ or ⅓rd of the pouch of onion soup mix. Blend the soup mix in with the hamburger meat. Add Worcestershire and Tabasco sauce to taste, don't skimp! Make 4 large burger patties with all the hamburger meat. Spray a broiling pan with Pam and broil until the meat is no longer pink all the way through. 5 minutes before you take out the meat, cover with a slice of cheddar cheese. Garnish with the lettuce, onion and tomato on the Kaiser and serve.

Want an extra kick? Coat the burgers in BBQ sauce before you cook them.

---
Search for Recipes, Search using Google, or Return to Cookbook Index