Burger Recipes
© Copyright 1995-2017, Clay Irving <clay@panix.com>, Manhattan Beach, CA USA
Jalapeño Cheeseburgers with Bacon and Grilled Onion
Recipe from: Bon Appétit, July 2005
Servings: 8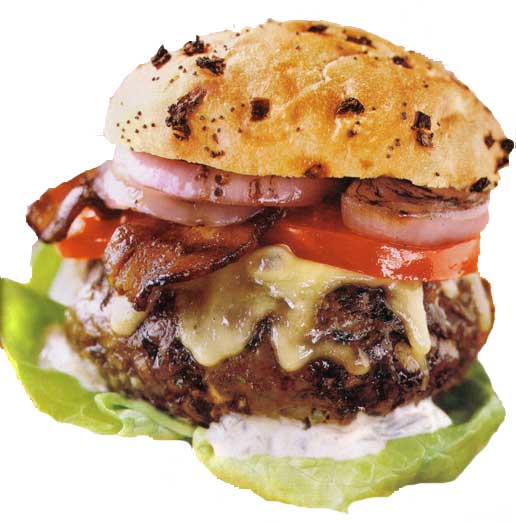 Spicy Ranch Sauce
1 cup mayonnaise
1 cup sour cream
½ cup chopped fresh cilantro
6 tablespoons fresh lime juice
4 green onions, finely chopped
2 tablespoons minced seeded jalapeño chile
½ teaspoon cayenne pepper

Burgers
2 pounds ground beef
1 small onion, chopped (about 1 ¼ cups)
¼ cup chopped fresh parsley
2 tablespoons Worchestershire sauce
1 tablespoon chopped seeded jalapeño chile
1 teaspoon salt
1 teaspoon ground black pepper
¼ teaspoon cayenne pepper

Worchestershire-Coffee Glaze
⅓ cup light corn syrup
2 tablespoons Worchestershire sauce
2 tablespoons ketchup
1 teaspoon instant coffee crystals
2 teaspoons (packed) golden brown sugar
3 tablespoons butter

16 bacon slices

nonstick vegetable oil spray
8 hamburger buns or 3 to 4 square focaccia rolls, split horizontally
8 lettuce leaves
2 cups coarsely shredded sharp white cheddar cheese
assorted topping (such as tomato and grilled onion slices)

Spicy Ranch Sauce
Whisk all ingredients in a medium bowl to blend. Season sauce with salt and pepper

Burgers
Gently mix all ingredients in a large bowl. Form mixture into eight ½-inch to ¾-inch patties. Place on small baking sheet. Cover and chill at least 2 hours and up to 1 day.

Glaze
Stir first 5 ingredients in a small saucepan over medium heat until coffee is dissolved. Remove from heat. Whisk in butter. Season glaze to taste with salt and pepper.

Prepare barbeque (medium-high heat). Working in batches if necessary, cook bacon in a large skillet over medium-high heat until crisp and brown. Transfer to paper towels to drain.

Spray grill rack with nonstick spray. Toast buns until golden, about 2 minutes per side. Transfer buns, cut side up, to plates. Place lettuce on each bun bottom. Grill burgers for 5 minutes, basting with glaze, and grill until cooked to desired doneness, about 5 minutes longer for medium. Press cheese atop each burger and allow cheese to melt. Place some sauce, then 1 burger on each bun bottom. Top each with 2 slices of bacon and desired additional toppings. Cover with bun top. Serve with remaining sauce.

---
Search for Recipes, Search using Google, or Return to Cookbook Index