Fish Recipes
© Copyright 1995-2017, Clay Irving <clay@panix.com>, Manhattan Beach, CA USA
Louis Osteen's Southern Fried Catfish
Recipe from: Louis Osteen's Charleston Cuisine: Recipes from a Lowcountry Chef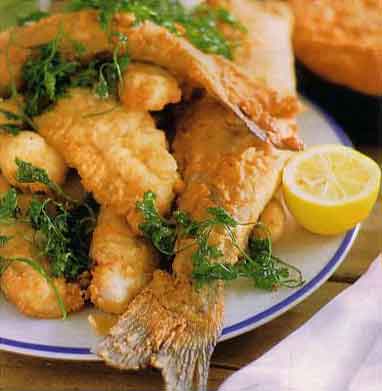 1 cup buttermilk
⅔ cup beer (not dark)
8 catfish fillets (4 ounces each)
1 cup yellow cornmeal
1 cup all-purpose flour
½ cup rice flour or cornstarch
1 tablespoon paprika
2 tablespoons salt
2 tablespoons freshly ground black pepper
Peanut oil, for pan frying

Combine buttermilk and beer in a large stainless-steel or glass bowl. Add catfish fillets, and let them marinade in the refrigerator for 2 hours, but not longer than that.

Combine cornmeal, flour, rice flour (or cornstarch), paprika, salt, and pepper in a small bowl. Mix well.

Drain catfish fillets, and discard marinade. Toss fillets lightly, one at a time, in breading mixture to coat them (you can do this in the small bowl). Place breaded fish carefully on a large baking sheet lined with wax paper, making sure fillets don't touch one another. Refrigerate for 30 minutes.

Heat oven to 200°F.

Pour peanut oil 2 inches deep in a heavy skillet. Heat oil to 355°F (check temperature with a frying thermometer). Slowly add fillets two at a time, frying
them for about 2 ½ minutes on each side, or until they are golden brown.

Remove each fillet with a slotted spoon, and place it on a paper towel to drain. Once the fillet has been drained, transfer to a platter, and keep warm in oven until all the fillets have been fried. Work quickly so fish doesn't get overdone. Serve immediately.


---
Search for Recipes, Search using Google, or Return to Cookbook Index