Fish Recipes
© Copyright 1995-2017, Clay Irving <clay@panix.com>, Manhattan Beach, CA USA
Tacos de Pescado (Fish Tacos)
Recipe from: Bon Appétit, May 2003
Servings: 6

Fish has long been eaten with tortillas in Mexico, but it wasn't until the past several decades that fish tacos became popular in the United States, after being perfected down in Baja, especially from Tijuana south to Ensenada.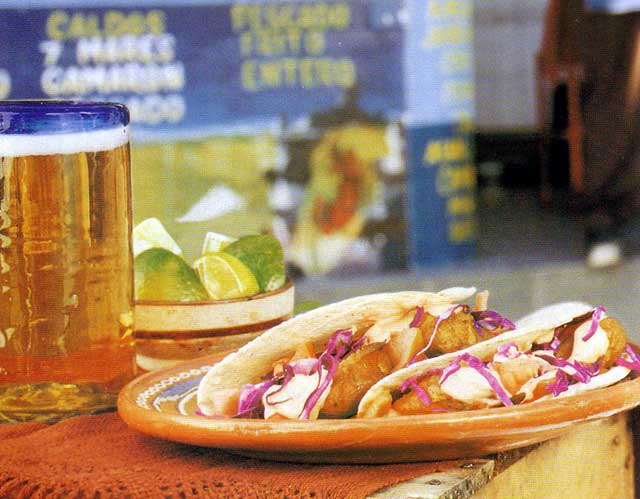 Sauce:
¼ cup mayonnaise
¼ cup ketchup
¼ cup crema mexicana

Batter and Fish:
1 cup all purpose flout
1 teaspoon fine sea salt
½ teaspoon ground pepper
1 cup dark beer, room temperature

1 ¾ pounds halibut, cut into 5 by ¾ inch pieces
1 lime, halved crosswise

12 white corn tortillas
vegetable oil for deep frying

1 ½ cups shredded red cabbage
2 large tomatoes, chopped
lime wedges
bottles hot pepper sauce

For Sauce:
Mix all ingredients in bowl and season with salt and pepper.

For Batter and Fish:
Whisk flour, salt, and pepper in bowl. Pour in beer, whisking until batter is smooth. Let stand 15 minutes.

Sprinkly fish with salt and pepper. Squeeze some lime juice over each strip. Let stand 15 minutes. Mix fish into batter.

Preheat oven to 200°F. Heat skillet over medium heat. Stack 2 tortillas. Sprinkle top with water. Place in skillet, wet side down. Heat 1 minute. Sprinkle top with water, turn stack over, and heat 1 minute. Transfer stack to large sheet of heavy-duty foil. Repeat. Encolse tortillas in foil and place in oven.

Pour oil into medium skillet to reach a depth of 1 inch. Attach deep-fry thermometer and heat oil to 350°F. Slide 4 fish strips into oil and fry until golden, about 4 minutes. Transfer fish to paper towel lined baking sheet and place in oven. Repeat.

Fill each warm tortilla with 2 fish strips. Top with sauce, cabbage, tomato, squeeze of lime, and dash of hot pepper sauce.

---
Search for Recipes, Search using Google, or Return to Cookbook Index