Gastropod Mollusk Recipes (Snail Recipes)
© Copyright 1995-2017, Clay Irving <clay@panix.com>, Manhattan Beach, CA USA
Escargot en Coquilles au Beurre d'Ail (Snails in Their Shells with Garlic Butter)
Recipe from: SAVEUR, No. 87
Servings: 4

Plump Burgundian-style snails are essential for this dish.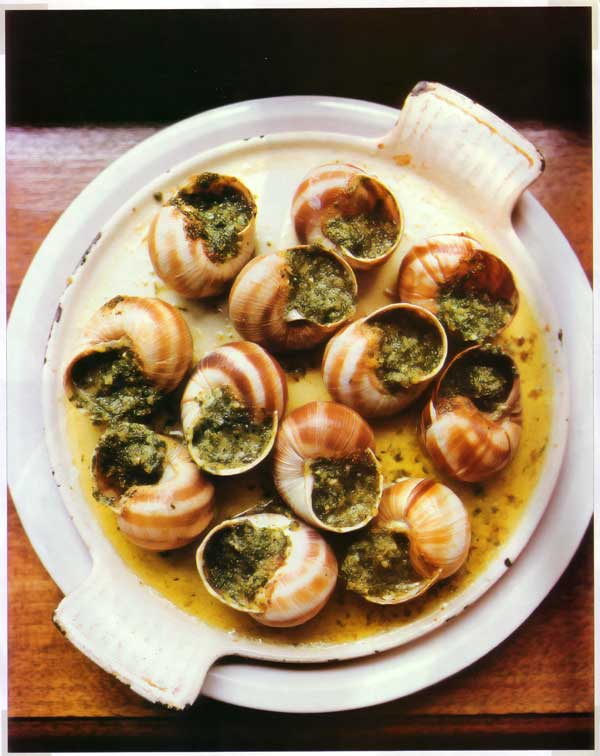 1 pound 6 ounces, preferable high-fat European-style, cut into large pieces
1 cup fresh parsley leaves, finely chopped
8 cloves garlic, peeled and finely chopped
1 shallot, peeled and finely chopped
2 tablespoons almond flour
1 tablespoon fine sea slat
1 tablespoon freshly ground white pepper
3 tablespoons Pernod
48 snail shells, cleaned
48 very large canned Burgundy snails, drained

Working in batches, put butter, parsley, garlic, shallots, almond flour, salt, and pepper into a food processor, pulse to combine, then add Pernod and pulse again to combine. Transfer butter to medium bowl.

Prehear oven to 400°F. Using a table knife, push 1 teaspoon of the seasoned butter deep into each snail shell, stuff a snail into each shell, and use the remaining butter to fill shells to the rim. Set 12 shells, butter side up, in 4 individual gratin dishes or all of them in a 10½ X 12 inch baking dish.

Bake snails until hot but butter hasn't completely melted around the rims, about 15 minutes. Divide snails between 4 plates if not using gratins.

---
Search for Recipes, Search using Google, or Return to Cookbook Index