Ricette Italiane (Italian Recipes)
© Copyright 1995-2017, Clay Irving <clay@panix.com>, Manhattan Beach, CA USA
Panzanella
Just be sure to use the freshest and tastiest tomatoes you can find — the essence of this Italian bread salad depends on it.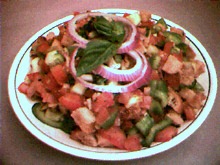 10 ounces Italian bread, cubed
4 cups tomato, chopped
1 teaspoon minced garlic
1 cup red onion, minced
1 cup fresh basil leaves, torn
¼ cup extra virgin olive oil
¼ cup red wine vinegar
black pepper

In a large bowl, toss bread, tomato, garlic, onion, and fresh basil leaves Pour the olive oil over the salad; add the vinegar, salt, and pepper to taste. Toss well; cover and allow to sit in the refrigerator for at least 3 hours (so the bread can absorb the dressing juices). Return to room temperature; garnish with more basil leaves, if desired. Serve.

---
Search for Recipes, Search using Google, or Return to Cookbook Index