Recetas Mexicanas (Mexican Recipes)
© Copyright 1995-2017, Clay Irving <clay@panix.com>, Manhattan Beach, CA USA
Huachinango a la Veracruzana (Red Snapper, Veracruz Style)
Recipe from: Bon Appétit, May 2003
Servings: 6

In a traditional Veracruzan household, you would find papas cambray (roasted tiny white potatoes) and a bowl of savory white rice served alongside.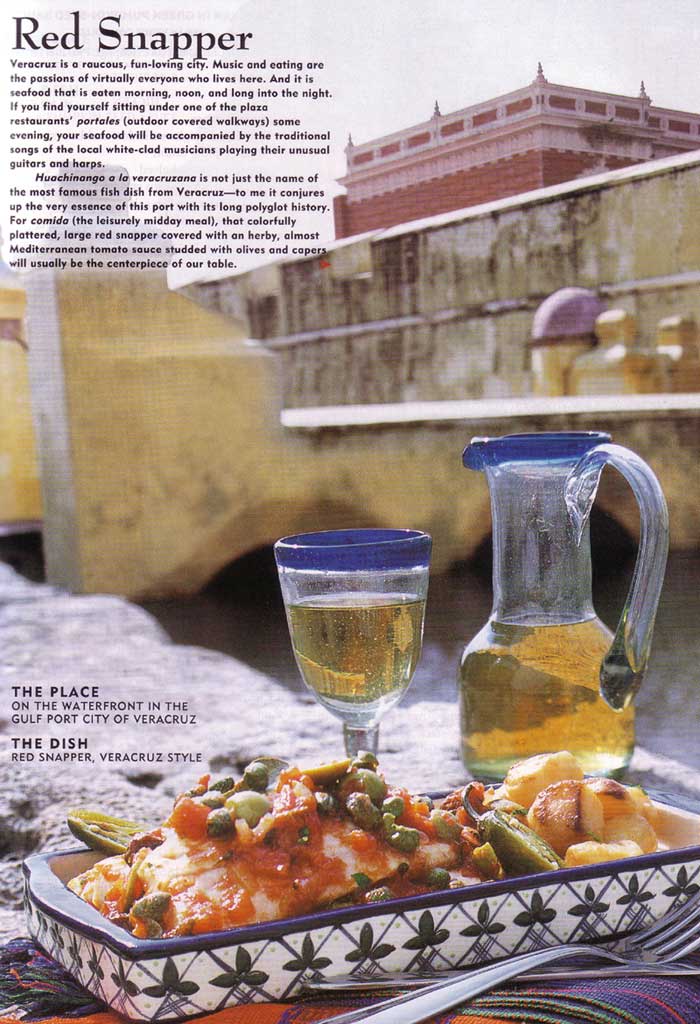 1 28 ounce can diced tomatoes in juice, well drained, juices reserved
¼ cup extra-virgin olive oil
¼ cup finely chopped white onion
3 large garlic cloves, chopped
3 small bay leaves
2 tablespoon chopped fresh parsley
1 teaspoon dried Mexican oregano
¼ cup chopped pitted green olives
2 tablespoons raisens
2 tablespoons drained capers
6 40 to 5 ounce red snapper fillets
3 pickled jalapeño chiles, halved lengthwise

Place drained tomatoes in medium bowl. Using potato masher, crush tomatoes to coarse purée. Drain again, reserving juices.

Heat oil in heavy large skillet over medium-high heat. Add onion and stir 40 seconds. Add garlic and stir 30 seconds. Add tomato purée and cook 1 minute. Add bay leaves, parsley, oregano, and ¼ cup reserved tomato juices. Simmer until sauce thickens, about 3 minutes. Add olives, raisins, capers, and all remaining tomato juices. Simmer until sauce thickens again, stirring occasionally, about 8 minutes. Season sauce to taste with salt and pepper. (Can be made 1 day ahead. Cover and refrigerate.)

Preheat oven to 425°F. Spread 2 tablespoons sauce in bottom of 15 by 10 by 2 inch glass baking dish. Arrange fish atop sauce. Sprinkle fish lightly with salt and pepper. Spoon remaining sauce over. Bake uncovered until fish is just opaque in center, about 18 minutes. Using long spatula, transfer fish with sauce to plates. Garnish with pickled jalapeño halves.

---
Search for Recipes, Search using Google, or Return to Cookbook Index