Recetas Mexicanas (Mexican Recipes)
© Copyright 1995-2017, Clay Irving <clay@panix.com>, Manhattan Beach, CA USA
Pescado Zarandeado (Grilled Whole Fish with Roasted Tomato-Chile Sauce)
Recipe from: Bon Appétit, May 2003
Servings: 4

Although you can broil the fish, it is at its best when cooked outside (placing the fish in a grill basket makes it easier to turn over on the barbeque). Ask the fishmonger to remove the head and scales and to clean and butterfly the fish.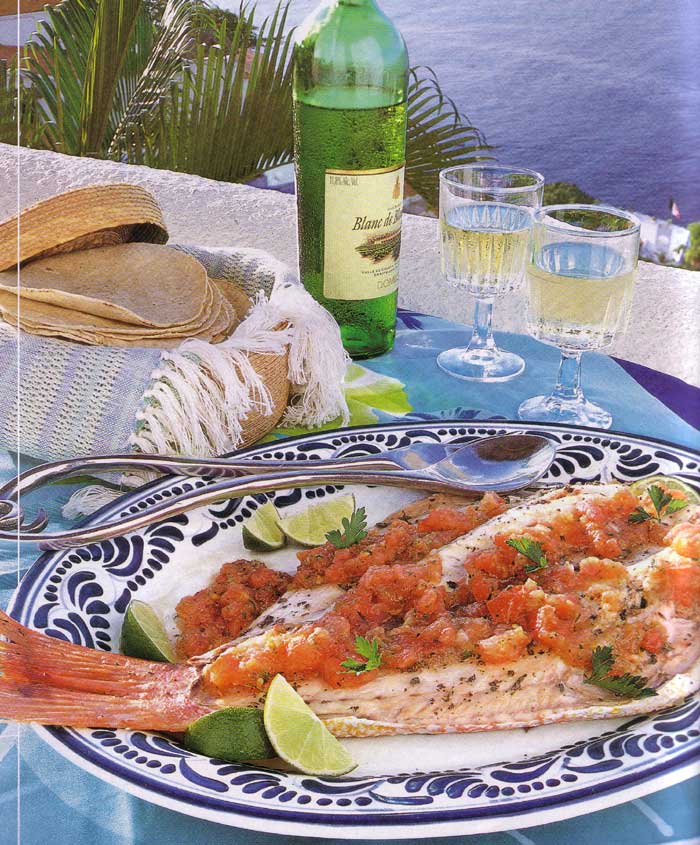 Sauce:
2 pounds ripe tomatoes
3 serrano chiles, stemmed
¼ cup coarsely chopped white onion
3 garlic cloves, chopped
¼ cup chopped fresh cilantro
1 tablespoon chopped fresh parsley
1 ½ teaspoons fine sea salt

Fish:
1 3 to 3 ½ pound whole red snapper, head and scales removed, fish cleaned, butterflied
¼ cup canola oil
1 teaspoon dried Mexican oregano

2 teaspoon fresh lime juice
12 5 to 6 inch diameter warm corn tortillas

For Sauce:
Line heavy large skillet with foil. Place tomatoes and chiles in skillet; cook over medium-high heat until skins begin to blister and blacken in spots, turning occasionally, about 20 minutes for tomatoes and 10 minutes for chiles. Remove from heat and cool slightly. Peel tomatoes; transfer to processor. Add chiles, onions, and garlic. Blend until coarse purée forms. Transfer sauce to bowl. Stir in cilantro, parsley, and salt. (Can be prepared 4 hours ahead. Cover and chill.)

For Fish:
Prepare barbeque (medium-high heat) or preheat broiler. Rinse fish inside and out with cold water; pat dry. Open fish flat, like a book. Rub fish inside and out with oil; sprinkle inside with oregano, salt, and pepper. If grilling, place fish, opened flat, in grill basket. If broiling, place fish, opened flat, on oiled rimmed baking sheet. Grill fish just until opaque in center, about 6 minutes per side.

Using spatula, transfer fish to platter. Sprinkle with lime juice; serve with tomato sauce and warm corn tortillas.

---
Search for Recipes, Search using Google, or Return to Cookbook Index