Recetas Mexicanas (Mexican Recipes)
© Copyright 1995-2017, Clay Irving <clay@panix.com>, Manhattan Beach, CA USA
Albondigas (Mexican Meatballs)
Servings: 4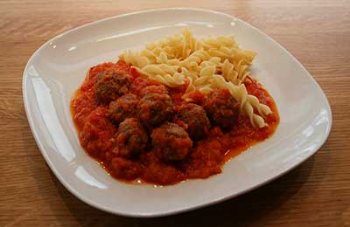 1 tablespoon oil
400 grams (about a pound) ground beef
1 large onion chopped
1 clove garlic chopped
1 medium bell pepper chopped
1 medium chili pepper, chopped
½ teaspoon ground coriander
1 large egg beaten
½ teaspoon cumin chopped
½ teaspoon cumin
½ teaspoon chilli powder
2 tablespoons bread crumbs
½ teaspoon sugar
1 pinch salt or to taste
1 can (16 ounce) tomatoes chopped
½ teaspoon pepper, black or to taste
1 clove garlic
2 tablespoon oil for frying
1 teaspoon salt
1 teaspoon pepper, black

Preheat oven to 390°F.

Combine all meatball ingredients in a large bowl and mix well. Shape into 16 to 20 small meatballs. Heat some oil and fry the meatballs for 5 to 10 minutes. When browned, remove from heat and drain on kitchen paper. Place in an ovenproof dish.

In a pan deep enough to hold a fair amount of liquid, heat the oil over a medium heat. Slowly fry the chopped pepper and onion until soft. Add chilli, cumin, coriander and garlic, and fry for another 2 to 3 minutes. Add the remaining ingredients and allow to simmer for 5 to 10 minutes.

Pour sauce over the meatballs and cook in the middle of the oven at 390°F for 20 minutes. Serve with pasta.

---
Search for Recipes, Search using Google, or Return to Cookbook Index