Pod and Seed Recipes
© Copyright 1995-2017, Clay Irving <clay@panix.com>, Manhattan Beach, CA USA
Black Bean and Cantaloupe Salsa
Recipe by: Los Angeles Times Magazine, July 27, 2003, p.28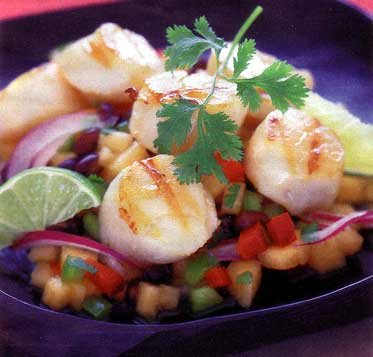 1 cup cooked or canned whole black beans
1 very ripe cantaloupe, diced
½ red bell pepper, diced
½ green bell pepper, diced
¾ cup canned pineapple juice
½ red onion, thinly sliced
½ cup fresh lime juice
½ cup chopped cilantro
1 tablespoon ground cumin
Salt and freshly ground pepper to taste

To make salsa, combine all of the ingredients in a large bowl, cover and refrigerate for at least an hour.

Serving suggestion:
The original recipe was "Fresh Rock Scallops with black bean and Cantaloupe Salsa" — Use:

10 fresh rock or sea scallops
Juice of 1 lemon
2 tablespoons olive oil
Sea salt and fresh pepper

To prepare the scallops, combine lemon juice, olive oil, salt and pepper, and gently toss with the scallops.

Over high heat, cook the scallops in a grill basket of frying pan one side for 3-5 minutes, then the other, being careful not to burn.

Using a slotted spoon, transfer the salsa to plates and top each with two scallops.

Note:
Photograph by Pornchai Mittongtare

---
Search for Recipes, Search using Google, or Return to Cookbook Index