Salsa Recipes
© Copyright 1995-2017, Clay Irving <clay@panix.com>, Manhattan Beach, CA USA
Cantaloupe Basil Salsa
Recipe from: Bon Appétit, July 2003
Servings: Aabout 2 cups

Juicy cantaloupe makes a refreshing salsa for grilled chicken or fish. For a milder salsa, discard all the chile seeds.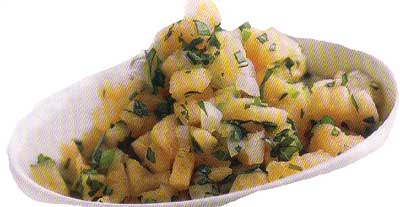 2 cups diced (¼ inch) cantaloupe (from a 2 ¼ pound piece)
¼ cup finely chopped sweet onion (such as Vidalia)
2 tablespoons finely chopped fresh basil
1 (2-inch long) fresh hot red chile or green chile such as serrano or Thai,
minced (including some seeds)
1 tablespoon fresh lime juice
¼ teaspoon salt

Toss together all ingredients in a bowl and let stand, covered and chilled, 10 minutes.

---
Search for Recipes, Search using Google, or Return to Cookbook Index