Salsa Recipes
© Copyright 1995-2017, Clay Irving <clay@panix.com>, Manhattan Beach, CA USA
Sour Cherry Salsa
Recipe from: Bon Appétit, July 2003
Servings: About 2 cups

This spicy-sweet salsa makes a great delicious accompaniment to grilled pork, chicken, or duck.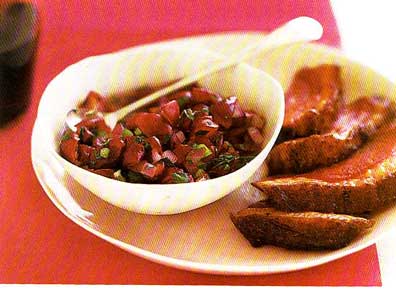 2 ¼ cups fresh or frozen pitted sour cherries (¾ pound)
1 tablespoon sugar
3 tablespoons finely chopped red onion (½ small)
1 large fresh jalapeño chile, finely chopped, including seeds (1 ½ teaspoons)
2 tablespoons fresh lime juice
⅓ cup fresh chopped cilantro
½ teaspoons salt

If using fresh cherries, coarsely chop, then site together with sugar in a small bowl until sugar is dissolved, about 5 minutes. If using frozen cherries, thaw in a small bowl, reserving any juices in bowl, then coarsely chop and stir together with sugar in same bowl. Stir in onion, jalapeño, lime juice, cilantro, and salt and let stand at room temperature 30 minutes for flavors to develop.

Note:
This salsa is best the day it is made but will keep, covered and chilled, for 1 day

---
Search for Recipes, Search using Google, or Return to Cookbook Index