Salsa Recipes
© Copyright 1995-2017, Clay Irving <clay@panix.com>, Manhattan Beach, CA USA
Mango and Queso Blanco Salsa
Recipe from: SAVEUR, Issue 85
Servings: About 7 cups

This recipe was given to us by cookbook author and SAVEUR contributor Maricel Presilla, who suggested serving the salsa with grilled fish or chicken. You can find the piquin chiles and queso blanco at your local Latin American grocer.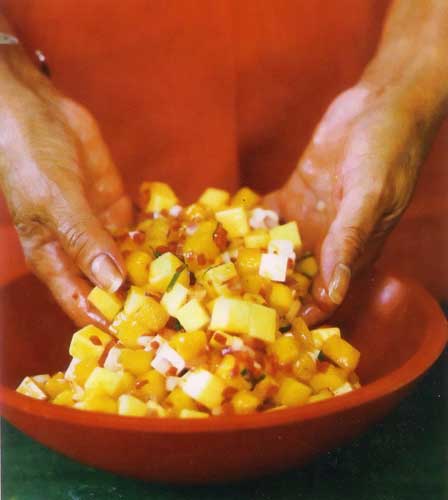 ⅓ cup fresh orange juice
⅓ cup fresh lime juice
¼ cup extra-virgin olive oil
1 ½ tablespoon honey
1 clove garlic, peeled and minced
2 ½ teaspoons salt
1 teaspoon ground toasted dried piquin chiles or cayenne
¼ teaspoon dried oregano
¼ teaspoon cumin seeds, toasted and ground
4 large ripe or semi-ripe mangoes, or combination of ripe, semi-ripe, and green (unripe) mangoes, peeled, pitted, and cut into ½ inch cubes
1 small red bell pepper, stemmed, seeded, and finely chopped
1 small red onion, peeled and chopped
4 ounces queso blanco, cut into ½ inch cubes
24 mint leaves, thinly sliced

Whisk citrus juices, oil, honey, garlic, salt, ground chiles, oregano, and cumin together in a large, nonreactive bowl. Add mangoes, bell peppers, onions, and cheese, and toss well. Adjust seasonings.

Add mint to salsa just before serving and toss well again. Serve salsa right away, or cover salsa and let rest at room temperature or in the refrigerator for up to 3 hours.

---
Search for Recipes, Search using Google, or Return to Cookbook Index