Sandwich Recipes
© Copyright 1995-2017, Clay Irving <clay@panix.com>, Manhattan Beach, CA USA
Crab Po' Boy
Recipe from: Cuisine at Home, June 2005
Servings: 4 sandwiches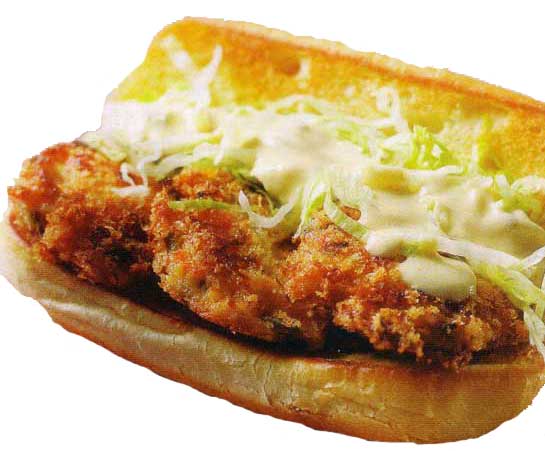 ½ cup mayonnaise
1 egg
1 teaspoon Old Bay seasoning
½ teaspoon red pepper flakes
juice of one lemon
2 cups crabmeat (8 ounces)
½ cup bread crumbs
½ cup mozzarella, grated
½ cup red bell pepper, diced
⅓ cup scallions, minced
1 cup bread crumbs, divided
2 to 4 tablespoons vegetable oil
8 bratwurst buns, toasted
shredded iceberg lettuce
purchased tartar sauce

Whisk mayonnaise, egg, Old Bay, pepper flakes and lemon juice together in a large bowl.

Gently stir in crab, ½ cup bread crumbs, mozzarella, bell pepper and scallions.

Form mixture into golf ball-size cakes. Transfer to parchment-lined baking sheet that's been sprinkled with ½ cup bread crumbs. Sprinkle tops with remaining bread crumbs, press cakes to flatten, then chill for 30 minutes to set.

Fry cakes in batches in 2 tablespoons oil over medium-high heat in a nonstick pan. Cook until golden, 3-4 minutes per side, then drain on paper towels.

Arrange 3 cakes on each toasted bun, then top with lettuce and tartar sauce.

---
Search for Recipes, Search using Google, or Return to Cookbook Index