Sandwich Recipes
© Copyright 1995-2017, Clay Irving <clay@panix.com>, Manhattan Beach, CA USA
Best-Ever Egg Salad Sandwich
Recipe from: Bon Appétit, April 2003
Servings: 6 sandwiches

Chopped pimento-stuffed olives, bacon and Dijon mustard take a standard to new heights. Offer potato chips, cherry tomatoes and sliced deli-style pickles alongside.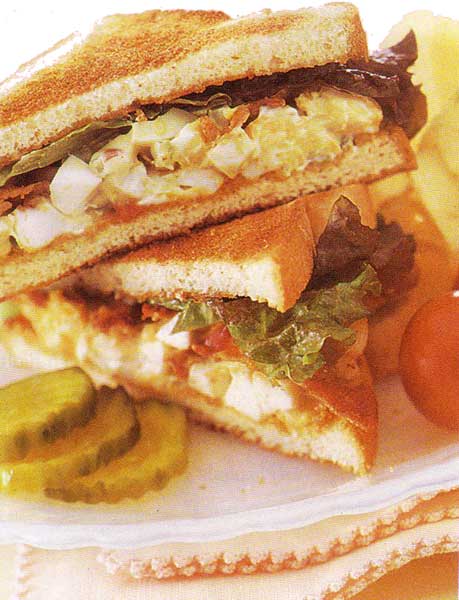 12 bacon slices
8 large hard-boiled eggs, peeled and coarsely chopped
⅓ cup finely chopped celery
¼ cup chopped pimento-stuffed green olives
½ cup mayonnaise
1 tablespoon Dijon mustard
12 slices white sandwich bread, toasted
12 red leaf lettuce leaves

Sauté bacon in heavy large skillet over medium heat until brown and crisp, about 8 minutes. Using slotted spoon, transfer bacon to paper towels to drain. Cut bacon slices crosswise in half.

Combine eggs, celery, and olives in bowl. Mix in ¼ cup mayonnaise and mustard. Season with salt and pepper.

Place toast slices on work surface and spread lightly with remaining mayonnaise. Divide egg salad amoung 6 toast slices. Place 4 bacon pieces, then 2 lettuce leaves atop egg salad on each. Cover with remaining toast slices, mayonnaise side down. Cut sandwiches diagonally in half.

---
Search for Recipes, Search using Google, or Return to Cookbook Index