Sandwich Recipes
© Copyright 1995-2017, Clay Irving <clay@panix.com>, Manhattan Beach, CA USA
Croissant Steak Sandwiches with Carmelized Onions and Horseradish Mayonnaise
Recipe from: Marty Rosencranz, River Vale, New Jersey. Recipe printed in Bon Appétit, March 2004
Servings: 4 sandwiches

Even though I am a professional chef at the Valley Brook Golf Club in New Jersey — when I cook at home I make dishes that are good but fast. The warm steak sandwich is one of the best things to eat on a cold day.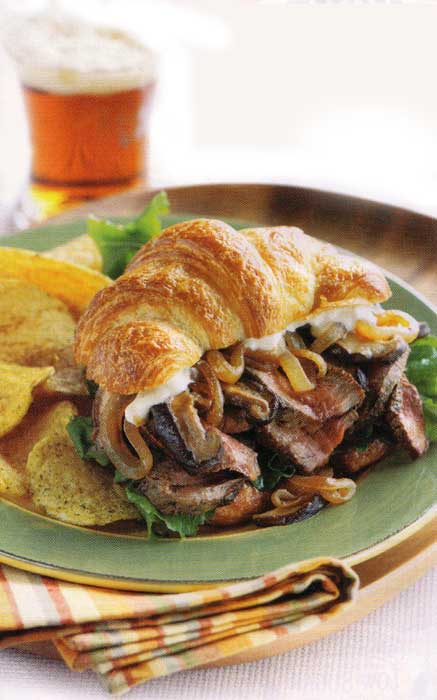 ½ cup mayonnaise
¼ cup prepared white horseradish
4 tablespoons (½ stick) butter, divided
3 1 inch thick beef tenderloin steaks
3 medium onions, thinly sliced
8 ounces large shiitake mushrooms, stemmed, caps thinly sliced, about 5 cups
1 cup beef broth
4 large croissants, halved horizontally, lightly toasted
2 cups arugula

Mix mayonnaise and horseradish in a small bowl to blend.

Melt 1 tablespoon butter in heavy large skillet over medium-high heat. Sprinkle tenderloin steaks with salt and pepper. Add steaks to skillet and cook to desired doneness, about 5 minutes per side for medium-rare. Using tongs, transfer steaks to work surface.

Melt 3 tablespoons butter in same skillet over medium-high heat. Add onions and sauté until dark brown, about 25 minutes. Add mushrooms and sauté until tender, about 5 minutes. Add broth and boil until juices are reduced to galze, stirring occasionally, about 1 minute. Season onion mixture to taste with salt and pepper.

Place 1 croissant bottom, cut side up, on each of 4 plates. Spread each with horseradish mayonnaise and top with ½ arugula. Thinly slice steaks and divide amoung croissants. Top with onion mixture. Spread remaining mayonnaise on cut side of croissant tops. Place tops on sandwiches.

---
Search for Recipes, Search using Google, or Return to Cookbook Index