Sandwich Recipes
© Copyright 1995-2017, Clay Irving <clay@panix.com>, Manhattan Beach, CA USA
Mozzarella in Carozza
Recipe from: Mario Batali
Servings: 8

"I celebrate the holidays at my house in Michigan, away from the hustle and bustle of New York City, where I work. I cook something simple like a turkey or a ham. Either way, I'll do mozzarella in caraozza (literally, "mozzarella in a carriage") as a starter. They're perfect for the occasion: the fresh mozzarella — mozzarella di bufala from Italy's Campania region, if you can find it — is decadent, even luxurious. The result is like grilled cheese sammies elevated to art. When that hot lactic blast hits you from a sandwich right out of the pan, you can't imagine cooking up anything else."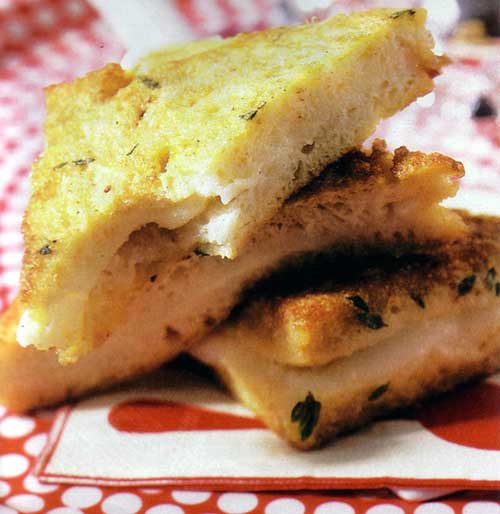 2 pounds fresh mozzarella, like mozzarella di bufala
16 ½ inch thick slices firm white sandwich bread
4 large eggs
1 cup milk
2 teaspoon fresh thyme
2 teaspoon salt
grating of nutmeg
½ cup extra virgin olive oil
4 tablespoon unsalted butter

Cut mozzarella into 8 equally thick rectangular slices, each about 3 by 4 inches. Place each mozzarella piece between 2 bread slices, and trim each sandwich into a perfect 4 inch square. Whisk together eggs, milk, thyme, salt, and mutmeg in a wide shallow bowl. Heat 2 tablespoon olive oil over medium-high heat in a 10 to 12 inch nonstick sauté pan. When oil smokes, add 1 tablespoon butter. When it's melted, dip 2 sandwiches into egg mixture, turn to coat and add to pan. Flip sandwiches when golden brown, about 2 minutes, then cook until golden brown on the other side, about 2 more minutes. Transfer sandwiches to a serving platter, then repeat process 3 more times (2 sandwiches per batch) using remaining olive oil and butter. Serve immediately.

---
Search for Recipes, Search using Google, or Return to Cookbook Index