Sandwich Recipes
© Copyright 1995-2017, Clay Irving <clay@panix.com>, Manhattan Beach, CA USA
Sardine Sandwiches
Servings: 4

I didn't have focaccia and I didn't take the effort to have "boneless, skinless" sardines. I made the sandwich with a loaf of French bread, and it is definitely the ingredients that define the recipe, because the sandwich was really good. The flavors of the ingredients work very well together.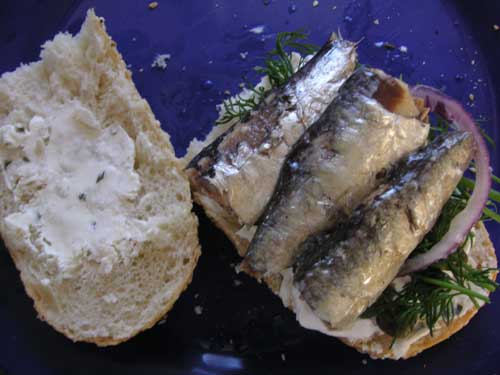 Photograph by Clay Irving

1 8 ounce container chive and onion cream cheese
¼ cup sour cream
1 teaspoon fresh dill
4 2 ½ by 2 ½ inch squares of focaccia, split
2 cans (4.375-ounce size) boneless, skinless sardines in olive oil
1 ½ tablespoon capers, rinsed and drained
1 red onion, thinly sliced

Combine first 3 ingredients; spread on cut sides of focaccia. Arrange sardines, capers, and onion on cream cheese mixture on squares of focaccia. Top with remaining focaccia.

Note:
In lieu of focaccia, you can use any kind of crusty bakery bread cut into squares.

---
Search for Recipes, Search using Google, or Return to Cookbook Index