Sausage Recipes
© Copyright 1995-2017, Clay Irving <clay@panix.com>, Manhattan Beach, CA USA
Italian Sausage, Hot
Cook these sausages in your preferred manner and crumble them over lasagna, or slice and serve them with a spicy marinara sauce over spaghetti. I advise doubling the recipe and making sausage pizzas.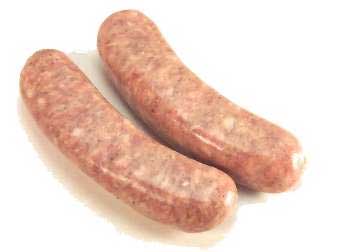 1 teaspoon crushed red chile
½ teaspoon cayenne powder
2 pound pork, coarsely ground
2 garlic cloves, minced
1 teaspoon coarsely ground black pepper
1 teaspoon salt
1 ½ teaspoon fennel seed
1 teaspoon Italian seasoning
3 ounce dry red wine
1 tablespoon sugar

Knead together all ingredients in a large bowl. Stuff the mixture firmly into hog casings, pricking any trapped air bubbles with a pin. Tie off in 4 to 6 inch lengths.

---
Search for Recipes, Search using Google, or Return to Cookbook Index