Sausage Recipes
© Copyright 1995-2017, Clay Irving <clay@panix.com>, Manhattan Beach, CA USA
Bockwurst
Recipe from: Bruce Aidells and Denis Kelly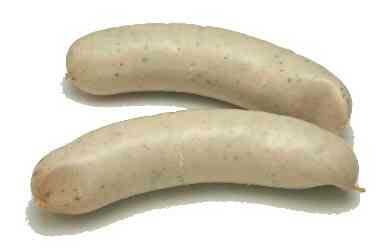 1 tablespoon butter
½ cup leeks, finely chopped
1 pound pork butt
1 pound veal shoulder
½ pound chicken breast, with skin
½ pound pork fatback
4 teaspoons kosher salt
1 teaspoon mace
½ teaspoon white pepper, finely ground
pinch ginger
1 cup milk
1 egg, beaten
½ cup green onion, finely chopped
¼ cup fresh parsley, chopped
medium hog casings

Heat the butter in a medium frying pan, over medium heat. Add leeks, cover and cook until leeks are soft and translucent, about 10 minutes. Set aside.

In a large bowl mix, pork, veal, chicken and fat with salt, mace. pepper and ginger. Grind through a ⅛ inch plate into a large mixing bowl. Add cooked leeks, milk, egg, green onion and parsley. Using a wooden spoon, beat mixture until well blended.

Chill sausage meat in refrigerator for 30 minutes. Stuff into medium casings and tie into 6 to 7 inch links.

Bring a large pot of lightly salted water to a boil. Add sausages, reduce heat and maintain a water temperature of 160 to 180°F for 20 to 25 minutes, or until sausages are firm. Drain and cool to room temperature. Poached sausages will keep 3 days in the refrigerator or 2 months in the freezer.

---
Search for Recipes, Search using Google, or Return to Cookbook Index