Soup Recipes
© Copyright 1995-2017, Clay Irving <clay@panix.com>, Manhattan Beach, CA USA
Brodetto di Rimini (Rimini Fish Soup) ☆
Recipe from: The Great Italian Cookbook

Rimini is a seaside town overflowing with youth, fashion, and a passion for enjoying life, Rimini is the favorite vacation spot for floods of Italian and European tourists. The sugar-brown beaches, water sports, discoteche, shopping boutiques, amusement parks, and gelaterie create a fun and care-free environment, appealing to visitors of all ages. Located along the Riviera del Sole and situated in the furthermost part of the Po Valley, Rimini is happily surrounded by rolling hills and bathed by the Adriatic Sea.

Rimini's traditional dishes focus primarily on the use of fish, and the town is famous for its brodetto ("fish soup") and marinara sauce. Tasty home-made pastas include cappelletti al formaggio (a type of ravioli, stuffed with cheese) and tagliatelle al ragú (long, flat noodles prepared in a savory meat sauce). Roasts, such as piccione farcito ("stuffed pigeon"), are also popular. For dessert, satisfy your sweet-tooth with some ciambelle (Italian doughnuts), fritelle ("fritters"), or castagnole (special fritters made from chestnuts).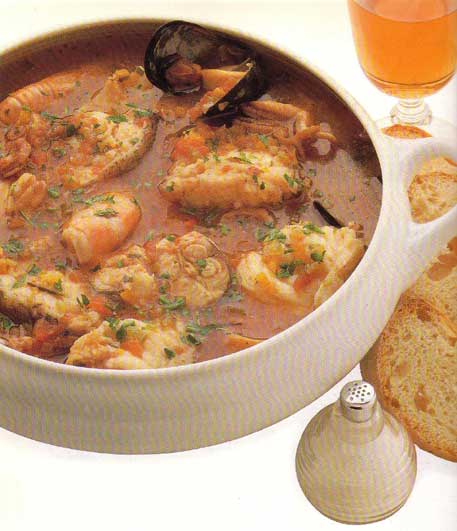 2 ½ pounds assorted fish (sole, shrimp, turbot, dogfish, mullet, sardines, squid, cuttlefish, mussels, clams, etc.)
1 cup olive oil
2 onions, chopped
2 cups canned tomatoes
1 tablespoon vinegar
salt
freshly ground pepper
1 sprig parsley, chopped
slices of bread, toasted

For the fish stock:
2 tablespoon oil
1 onion, chopped
2 ripe tomatoes
1 sprig parsley, chopped
1 pound fish trimming (heads, bones, etc.)
salt
freshly ground pepper
5 cups water
1 tablespoon vinegar

Choose a wide variety of fish, bearing in mind that the greater the variety the richer the flavor of the soup. Clean an gut the fish, reserving the heads for the stock. Wash the fish in salted water and drain well. Prepare the stock: In a deep saucepan fry the chopped onion in the oil until soft, then add the chopped and seeded tomatoes. Cook over high heat for ¼ hour, then add the parsley and the fish trimmings; season with a little salt and pepper, then add the water and vinegar. Cover and simmer gently for about 40 minutes, then strain.

Prepare the soup: Pour the oil in to a shallow fireproof dish, large enough to hold the fish in a single layer. Fry the onions over low heat and when they begin to soften add the canned tomatoes and cook over moderate heat for about 20 minutes. Add the fish, putting in the firmer fleshed varieties first and arranging them in a single layer. Season with a little salt and pepper. Cook until the liquid begins to boil, then sprinkle the vinegar over the fish and allow it to evaporate. Cover and cook gently for ½ hour; the fish must remain firm. Add the chopped parsley and finally the hot strained stock to the fish soup. Serve hot, with the slices of toasted bread.

---
Search for Recipes, Search using Google, or Return to Cookbook Index