Tam Ra Ahan Thai (Thai Recipes) ตำราอาหารไทย
© Copyright 1995-2020, Clay Irving <clay@panix.com>, Manhattan Beach, CA USA
Nam Chim Kiga (Chili Sauce or Dip for Barbeque-style Foods)
This is a common and tasty dip for barbeque style foods.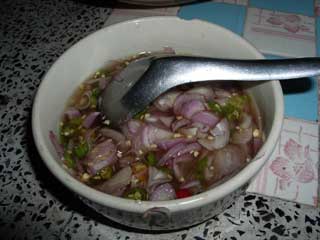 Click on picture to enlarge (© Photograph by Clay Irving)
The dip in the picture above is a Nam Jim, but it isn't ground into a paste in the mortar. I had it served with fried pla nin (tilpia). Aroy-mak-mak! (very delicious!).

6 tablespoons prik ki nu (green birdshit chili), sliced thinly
6 tablespoons prik ki nu daeng (red birdshit chili), sliced thinly
4 tablespoons hom daeng (shallots), sliced thinly
3 tablespoons phak chi (coriander plant including root), chopped
2 tablespoons kratiem (garlic), sliced thinly
1 tablespoon nam manao (lime juice)
1 tablespoon nam pla (fish sauce)

Sauté the chilis, shallots and garlic in a little hot oil. After cooling purée the mixture in a food processor of mortar and pestle. If the coriander and shallots are added at the last minute the mixture will keep for several weeks in a refrigerator.

---
Search for Recipes, Search using Google, or Return to Cookbook Index