Tam Ra Ahan Thai (Thai Recipes) ตำราอาหารไทย
© Copyright 1995-2020, Clay Irving <clay@panix.com>, Manhattan Beach, CA USA
Phaenang (A Thick Red Curry) แพนง
Phanaeng is a very thick stir-fry orange-red-colored curry with coconut milk. Consequently, it is simply called 'Phanaeng' rather than 'Kaeng Phanaeng' ('Kaeng' is refered to thinner boiled curries). Phanaeng is less hot than other Thai curries but with tantalizing blended flavors of herbs and spices. Phanaeng is usually cooked with shrimp, chicken, or pork. Preparation of Phanaeng paste requires a long list of ingredients though not too complex to prepare.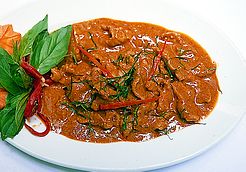 9 dried deseeded chillies, soaked in water until soft
15 small dried hot chillies
9 pepper corns
½ teaspoon salt
1 teaspoon peeled young galangal, thinly sliced
1 teaspoon thinly sliced lemmon-grass stalk
1 teaspoon thinly sliced kaffir lime rind
15 peeled garlic cloves
1 peeled sliced shallot
1 tablespoon chopped corriander root
⅛ teaspoon roasted coriander seed
⅛ teaspoon roasted cumin seed
2 tablespoon roasted peanuts
½ teaspoon shrimp paste

Pound chillies and salt until finely ground, add the rest of the ingredients except the shrimp paste, pound again until thoroughly mixed. Then add the shrimp paste and mix well.

---
Search for Recipes, Search using Google, or Return to Cookbook Index