Tam Ra Ahan Thai (Thai Recipes) ตำราอาหารไทย
© Copyright 1995-2020, Clay Irving <clay@panix.com>, Manhattan Beach, CA USA
Phaenang Nuea (Dry Beef Curry) แพนงเนื้อ
Recipe from: Pan Pacific Hotel, Bangkok

A southern style of cooking beef, hot and fragrant with typically Indian spices. The use of palm sugar, peanuts and kaffir lime leaves, however, is distinctly Thai.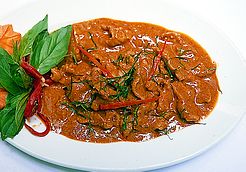 1 tablespoon coriander seeds, ground
2 teaspoons cumin seeds, ground
3 tablespoons Mussaman curry paste
½ cup coconut cream
400 g beef, cut into thin strips
1 ½ cup ground roasted peanuts
2 ½ tablespoons fish sauce
¼ teaspoons salt
3 tablespoons chopped palm sugar
6 kaffir lime leaves, torn in half
1 red chilli, thinly sliced

Mix the ground coriander and cumin with the Mussaman curry paste. Heat coconut cream until some of the oil surfaces, then add the curry paste and slowly bring to the boil, stirring constantly. Put in beef strips and cook for 5 minutes, add remaining coconut milk and the rest of ingredients except for the kaffir lime leaves and chilli. Stir well and simmer until the meat is tender. Add the kaffir lime leaves and chillies, remove from the heat and serve with white rice.

---
Search for Recipes, Search using Google, or Return to Cookbook Index