Tam Ra Ahan Thai (Thai Recipes) ตำราอาหารไทย
© Copyright 1995-2020, Clay Irving <clay@panix.com>, Manhattan Beach, CA USA
Lap Kai (Ground Chicken Salad) ลาบไก่
Servings: 4 to 6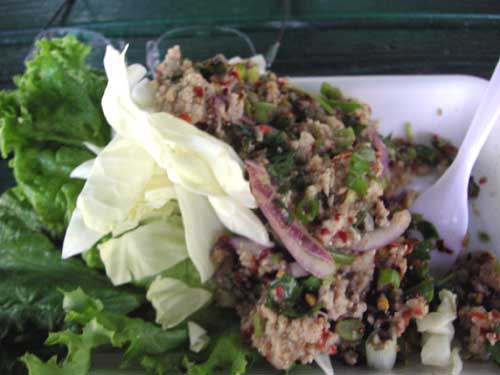 Photo of larb gai taken at Wat Los Angeles (© Photograph by Clay Irving)
1 pound ground chicken breast
2 green onions, white part only
1 ounce (¼ cup sliced) red onion
3 pieces kah (galangal)
2 tablespoon fish sauce (nam pla)
¼ cup lime juice
1 ½ teaspoons ground roasted chiles
1 tablespoon ground toasted rice
¼ cup loosely packed mint leaves
red lettuce leaves
fresh red chile "flowers"
2 pounds assorted raw veggies (broccoli, green beans, eggplant, zucchini, etc.), cut into serving size pieces

Heat a wok and add the chicken without oil. Stir-fry until the pink color is gone. Set aside. Slice the green onion, crosswise into pieces about ⅛ inch thick and add to the chicken. Peel the red onion and remove the root portion. Slice vertically into paper thin strips and add to chicken.

Heat a small skillet and roast the kah without oil until it's light golden. Grind it to a powder in a blender or grinder and add to chicken. Add the fish sauce, lime juice, roasted chiles, toasted rice and mint leaves. Stir well.
Place a single layer of lettuce or cabbage leaves on a serving platter and arrange the salad on top of them. Garnish with fresh red chile "flowers".

Serve with assorted veggies and rice.

---
Search for Recipes, Search using Google, or Return to Cookbook Index