Tam Ra Ahan Thai (Thai Recipes) ตำราอาหารไทย
© Copyright 1995-2020, Clay Irving <clay@panix.com>, Manhattan Beach, CA USA
Phat Thai (Stir Fried Noodles) ผัดไทย
Recipe from: Samart Srijumnong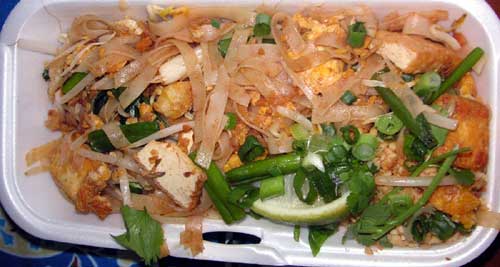 Click on picture to enlarge (© Photograph by Clay Irving)
1 pack rice sticks
½ cup dried shrimp (or 1 cup fresh shrimp, if one likes)
½ cup finely cut hard tofu (⅛ by ⅛ by ½ inch)
½ cup ground peanut
1 cup bean sprout
½ cup Chinese chives (cut about 1" in length) Could be substituted by green onion)
1 pound of cut white chicken meat (only half if fresh shrimp is also used)
6 eggs
2 teaspoon of pepper powder
½ cup fish sauce
½ cup soy sauce
¼ cup sugar
¼ cup cooking oil
2 tablespoon smashed garlic
2 tablespoon smashed onion

Soak the rice sticks in warm (room-temperature) water for about 15 minutes. Cut it into about 3" in length. Drain and leave it on the drainer.

Heat the wok. Add the oil. Add garlic, onion, and tofu. Stir them well for a minute or two. Add the dried shrimps. Stir. Add peanut. Stir. Add fish sauce and soy sauce. Stir. Add sugar. Stir. Add pepper. Stir. Add the chicken (and/or the fresh shrimps). Stir. Add eggs. Stir. Add some water (about ½ cup). Stir. Add the soaked noodle (rice sticks). Stir.... stir...and stir...or the noodle may get burnt. Add some water if necessary. Stir. Taste if it tastes right. Add fish sauce, soy sauce or sugar if needed. Otherwise, add bean sprout and the chives...stir...Put the wok out of the heat. Serve it with siding vegetable (e.g. cabage, fresh beansprout). The batch should feed at least ten eaters (of medium hungry!). Encourage them to add anything to their tastes (peanut, sugar, lime juice, pepper).

Note:
The right taste should be a combination of saltiness, sweetness, and hotness. The whole cooking should not take more than 12 minutes.

---
Search for Recipes, Search using Google, or Return to Cookbook Index