Tam Ra Ahan Thai (Thai Recipes) ตำราอาหารไทย
© Copyright 1995-2020, Clay Irving <clay@panix.com>, Manhattan Beach, CA USA
Khai Yat Sai (Omelet) ไข่ยัดไส้
Servings: 1

Kai Yat Sai is square stuffed omelet.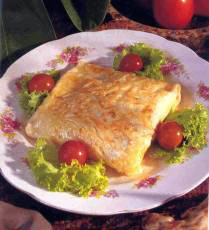 3 eggs
¼ teaspoon pepper
¼ teaspoon salt

For the filling:
3 tablespoon onion, minced
1 large garlic clove, finely minced
¼ cup green peas
1 medium tomato, in ½ dice
½ cup ground pork
1 teaspoon nam pla
1 teaspoon sugar
1 teaspoon rice vinegar
1 ½ tablespoon catsup
¼ c green onion, bulb and stem, finely minced

In a pan heat oil, add onion and garlic, frying until lightly browned. Add pork and fry for 5 minutes, add peas, tomatoes, and remaining ingredients except the green onion. Stir and cook for 10 minutes, adding a few teaspoons of water if the mixture becomes too dry. In a bowl beat the eggs well, add pepper and salt. Prepare eggs in omlett fashion, and place above filling on one side before folding egg over. Garnish top with chopped onion, and serve sriracha hot sauce on the side.

---
Search for Recipes, Search using Google, or Return to Cookbook Index