Tam Ra Ahan Thai (Thai Recipes) ตำราอาหารไทย
© Copyright 1995-2020, Clay Irving <clay@panix.com>, Manhattan Beach, CA USA
Krapo Pla (Dried Fish Maw Soup) กระเพาะปลา ☆
Recipe adapted from: Thailand: The Beautiful Cookbook by Panurat Poladitmontr and Judy Lew
Servings: 4

krapo pla, กระเพาะปลา, is the air bladder of a fish. It is fried to preserve it, and it is soaked in water to reconstitute it.

I ordered this soup from one of the food vendors at Wat Thai Los Angeles where I study Thai language every Saturday and Sunday. The food vendor's sign (see below) indicated it was "Chicken Soup". I guess she didn't want to scare the farangs (Westerners) away with a big sign for "Fish Maw Soup"!

The soup I ordered was wonderful. It was piping hot with chunks of tender chicken meat, slightly sour strips of bamboo shoots, gelatinous pieces of the fish maw, slices of mushrooms, and a whole hard-boiled eggs. It was topped with freshly chopped cilantro and two teaspoons of a vinegary chili sauce.

The soup is similar to a Chinese Hot and Sour soup. The liquid is thick, and it is almost "stew-like". It is so good!
-ci




Click on picture to enlarge (© Photograph by Clay Irving)


Another variation with small quail eggs and cubes of chicken or duck blood (© Photograph by Clay Irving)

One of the food vendors at Wat Thai Los Angeles calls this soup, "Chicken Soup". (© Photograph by Clay Irving)
4 cups water
1 whole chicken breast, about 1 pound
8 ounces dried fish belly/fish maw (grapraow pla), soaked in hot water until soft
⅓ cup light soy sauce
1 tablespoon sweet soy sauce
½ cup bamboo shoot strips
¼ teaspoon white pepper
4 small hard-boiled eggs, shelled and, if desired, sliced
¼ cup cilantro, chopped

Heat the water to boiling in a large saucepan and simmer the chicken breast for about 10 to 15 minutes or until done. Reserve the chicken stock. Place the cooked chicken breast in cold water to cool. Remove the meat from the bone and discard the skin. Shread the meat and set aside.

Drain the dried fish maw, squeeze out any excess water and cut into 1 inch pieces. Heat the chicken stock to boiling, add the dried fish maw and all the remaining ingredients except the eggs and the cilantro. Stir in the shredded chicken and cook until hot. Pour into a serving bowl and garnish with egg and cilantro.

Note:
If fish maw is difficult to find, you can substitute with dried puffy porkskin. But, there's no reason to substitute because you can buy it online at GroceryThai.com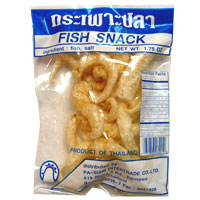 ---
Search for Recipes, Search using Google, or Return to Cookbook Index