Tam Ra Ahan Thai (Thai Recipes) ตำราอาหารไทย
© Copyright 1995-2020, Clay Irving <clay@panix.com>, Manhattan Beach, CA USA
Khanom Chip (Siu Mai Dumplings) ขนมจีบ
Recipe from: chia
Servings: 4 to 6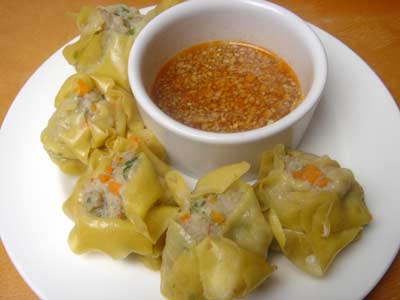 Siu Mai (Shumai) dumplings are called kanom jeeb in Thailand. "kanom" is a generic term for sweet dainties, candied foods, puddings, and pastries. "jeeb" means to pleat or gather together in folds. So, "kanom jeeb is a pleated dumpling.

8 dried shiitake mushrooms
8 ounces fresh shrimp
10 ounces ground pork, about 1 ⅓ cups
1 teaspoon cornstarch
1 teaspoon sesame oil
1 teaspoon salt
½ teaspoon sugar
½ teaspoon white pepper
24 round wonton wrappers, shanghai style
¼ cup minced scallions

In a small bowl soak the mushrooms in ½ cup cold water 30 minutes or until softened. Drain and squeeze dry, reserving the soaking liquid. Cut off and discard the stems and mince the caps. In a processor, chop shrimp into small pieces. Add to pork and remaining ingredients. Add 1 to 1 ½ teaspoon mushroom water. Put the won ton wrappers on a work surface and lightly cover with a damp towel. Touch the tip of your left index finger to the tip of your thumb to form a small empty circle, or hole. Put one wrapper over the hole and put1 tablespoon filling in the center of the wrapper. Let the filled wrapper drop halfway through the hole, and gently squeeze it closed with your fingers. Put on a work surface and carefully pleat the excess wrapper, pressing down the filling. Put the dumpling upright on a plate. Continue filling the rest of the wrappers. Line a 12 inch bamboo steamer with a cheesecloth, or add oil to a plate. Place half the dumplings on the plate, ½ inch apart. Cover the steamer with its lid. Add water to a 14 inch flat-bottomed wok to a depth of ¾ inch and bring to a boil over high heat. Carefully put the steamer in the wok, and steam on high heat 15 minutes or until the pork is no longer pink and just cooked. Be sure to check the water level from time to time and replenish, if necessary, with boiling water. Carefully remove the steamer from the wok. The dumplings should be served immediately. Continue steaming the remaining dumplings, replenishing the wok with more boiling water.

Serve with nam jim kanom jeeb (Dumpling Dipping Sauce) or Jik Cho (Dumpling and Dim Sum Dipping Sauce).

---
Search for Recipes, Search using Google, or Return to Cookbook Index