Tam Ra Ahan Thai (Thai Recipes) ตำราอาหารไทย
© Copyright 1995-2020, Clay Irving <clay@panix.com>, Manhattan Beach, CA USA
Kaeng Hang Le (Hang Lay Curry) แกงฮังเล
Recipe from: Master Chef Noppakorn Goonthamronggrat, Bangkok Post, 31 Dec 2006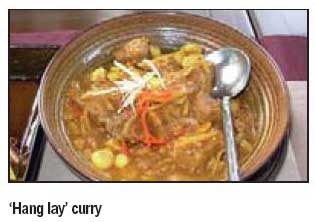 Photograph from the Bangkok Post

500 grams pork neck, cut into 1 inch cubes
7 grams hang lay powder
50 grams pre-prepared hang lay curry paste
50 grams roasted peanuts
50 grams pickled local garlic (small and roundish)
100 grams fresh garlic
100 grams shallots
200 grams onions, sliced
50 grams ginger, shredded
50 grams tamarind juice
50 grams palm sugar
20 grams light soy sauce
10 grams dark soy sauce

Combine the pork with the hang lay powder, curry paste, peanuts, fresh garlic, shallots, onions, ginger (all but a few teaspoonfuls), tamarind, sugar and both types of soy sauce. Marinade for one hour.

Heat up a pot, add the marinated pork and simmer over low heat until the pork is tender. Add the pickled garlic and reduce the heat to very low. Simmer, stirring occasionally, for another 30 minutes.

Garnish with the remainder of the ginger before serving with steamed rice.

---
Search for Recipes, Search using Google, or Return to Cookbook Index