Tam Ra Ahan Thai (Thai Recipes) ตำราอาหารไทย
© Copyright 1995-2020, Clay Irving <clay@panix.com>, Manhattan Beach, CA USA
Phat Thai (Stir Fried Noodles) ผัดไทย
Recipe from: Viviana Aldridge
Servings: 6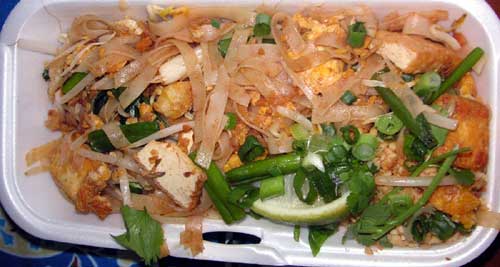 Click on picture to enlarge (© Photograph by Clay Irving)
1 16 ounce jantaboon rice sticks, medium 1
1 tablespoon vegetable oil
6 eggs, beaten
¼ cup vegetable Oil
8 garlic cloved
1 pound pork, beef, chicken or shrimp 2
¼ cup vinegar
¼ cup sugar
1 cup chad po (salted radishes) 3
¼ cup nam pla
1 cup peanuts, roasted and coarsely ground
2 tablespoons chili powder or paprika
2 cups bean sprouts
1 cup green onions, sliced
1 cup fresh cilantro, chopped
1 lime

Soak rice sticks in lukewarm water for 1 hour, drain and set aside. Set wok over high heat, for 1 minute. Heat wok with 1 tablespoon of oil until sizzling hot and coat sides of wok evenly. Add eggs and fry, until eggs set, turn over and fry, until light brown on both sides. Remove from wok and slice thin, bite size. Set aside.

Heat ¼ cup of oil in wok until sizzling hot. Add garlic and cook until fragrant. add meat, stir and cook, until meat or tofu is done, about 1 to 2 minutes. Add rice sticks and vinegar, cook until rice sticks soften. Add eggs, and the next 5 ingredients, stir to blend. Remove to serving plate. Serve bean sprouts cold on the side. Garnish with green onion and cilantro.

Serve with slices of fresh lime. Squeeze lime on pad thai.

—
1 16-ounce package chantaboon rice sticks, medium thread. I think the spelling of "chantaboon" can also be found as "jantaboon" or something like that.

2 I used tofu when I made this. If you do the same, press the tofu between three sheets of towel paper on the top and the bottom. Put a plate on top and a two pound weight on top of the plate. Wait 20 minutes.

3 These are packaged in a plastic see through flat container and slightly orange in color
---
Search for Recipes, Search using Google, or Return to Cookbook Index