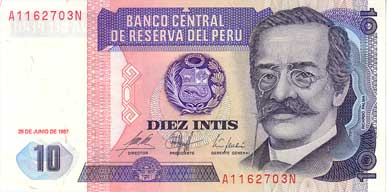 Pick# 129 - Banco Central De Reserva Del Peru 10 Intis Note, 26 June 1987 Issue
Obverse: Ricardo Palma at right, arms at center
Obverse: Indian farmer digging at left an another picking cotton at center
Watermark: Ricardo PalmaSize: 151 x 75 mm

Manuel Ricardo Palma Soriano (Lima, February 7, 1833 - Miraflores, October 6, 1919) was a Peruvian author, scholar, and librarian. His magnum opus is the Tradiciones Peruanas. Young Ricardo Palma became a naval officer, a journalist, and a politician before gaining a reputation as a historian with his book on the Spanish Inquisition operating in the viceroyalty of Peru (Inquisition of Lima, Peru, 1863). He served as director of the National Library of Peru for many years until his death in 1919. Palma successfully took on the task of rebuilding the National Library after it was ransacked by the occupation forces of the Chilean army in 1881 following the battle of Lima during the War of the Pacific. Palma was able to bring the National Library back from the ashes to its previous stature and allowed it to be again recognized as one of the top libraries in South America. It was through his personal friendship with the then Chilean president Domingo Santa María, that Palma was able to recover an estimated 10,000 books from Chilean hands, as well as many others works which were recovered through his own personal efforts.
Palma's literary reputation rests upon his creation and development of the literary genre known as tradiciones — short stories that mix history and fiction, written both to amuse and educate, according to the author's declared intention. It was by creatively using poetic license and by deviating from "pure" history that Palma gained his large South American readership. His Tradiciones Peruanas span several centuries, but with an emphasis on earlier colonial and republican times in Peru. The Tradiciones were published from 1872 to 1910 in a series of volumes — some of which are freely available on the internet (see the bottom of this page for links). There are also many different editions and selections of the Tradiciones commercially available. The "Tradiciones Peruanas" do not meet formal historical standards of accuracy or reliability sufficiently to be considered "history," but Palma never intended them to be read as "pure" history. Since they are primarily historical fiction they should be understood and enjoyed as such. The author's opinion, the opinions of the other primary sources or oral narrators of the stories he collects and transmits, as well as hearsay, play a large role in his stories. Yet Palma's historical fiction even to this day entertains and amuses readers of all ages. Ricardo Palma therefore made a considerable contribution to Peruvian and South American literature. Some critics have classified the Tradiciones as part of nineteenth-century Romanticism along the lines of Jose Maria Eguren and similar writers. Most, however, would agree that the universality of the "Tradiciones Peruanas" and their enduring success may derive from the fact that they are a window into the idiosyncrasies of the national soul, culture and history of the Peruvian people.
Pick# 131b - Banco Central De Reserva Del Peru 50 Intis Note, 26 June 1987 Issue
Obverse: Nicolás de Piérola at right, arms at center
Reverse: Oil drilling rig at left
Watermark: Nicolas de Pierola
Size: 149 X 75 mm

H.E. Don Jose Nicolás Baltasar Fernández de Piérola y Villena, known as "El Califa" — "The Caliph" (January 5, 1839 - June 23, 1913) was a prominent Peruvian politician, the Finance Minister and twice President of the Republic of Peru (from 1879 to 1881 and 1895 to 1899).
Pick# 133 - Banco Central De Reserva Del Peru 100 Intis Note, 26 June 1987 Issue
Obverse: Ramón Castilla at right, arms at center
Reverse: Women workers by cotton spinning frame at left center
Watermark: Ramón Castilla
Size: 150 x 75 mm

Ramón Castilla y Marquesado (Tarapacá, 31 August 1797 - Tiviliche, 25 May 1867) was a Peruvian caudillo and President of Peru four times. His earliest prominent appearance in Peruvian history began with his participation in a commanding role of the army of the Libertadores that helped Peru become an independent nation. Later, he led the country when the economy boomed due to the exploitation of guano deposits. Castilla's government abolished slavery and modernized the state. He assumed the presidency for the first time after general Domingo Nieto's death for a short period in 1844, then in 1845 until 1851, again from 1855 to 1862 and, finally, during a brief period in 1863.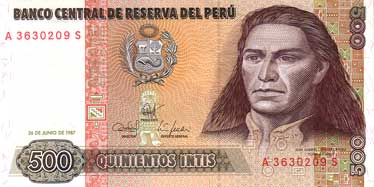 Pick# 134b - Banco Central De Reserva Del Peru 500 Intis Note, 26 June 1987 Issue
Obverse: José Cabriel Condorcanqui Túpac Amaru II at right, arms at center, ornate red-orange vertical strip at left end of design with added security thread underneath
Reverse: Mountains and climber at center
Watermark: José Cabriel Condorcanqui Túpac Amaru II
Size: 150 x 76 mm

Túpac Amaru II (José Gabriel Túpac Amaru b. March 19, 1742 in Tinta, Cusco, Peru - executed in Cusco May 18, 1781) was the leader of an indigenous uprising in 1780 against the Spanish occupation of Peru. Although unsuccessful, he later became a mythical figure in the Peruvian struggle for independence and indigenous rights movement and an inspiration to a myriad of causes in Peru.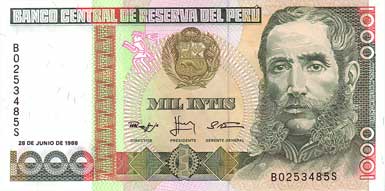 Pick# 136a - Banco Central De Reserva Del Peru 1000 Intis Note, 26 June 1987 Issue
Obverse: Mariscal Andrés Avelino Cáceres at right, arms at center
Reverse: Ruins of Chan Chan
Watermark: Mariscal Andres Avelino Caceres
Printer: Thomas De La Rue & Company, Ltd.
Size: 150 x 75 mm

Andrés Avelino Cáceres Dorregaray (Ayacucho, November 10, 1836 - Lima, 10 October 1923) was President of Peru for three times in the nineteenth century, between 1884 and 1885, between 1886 and 1890 and again between 1894 and 1895. In Peru he is considered a national hero for leading the resistance in the central Peruvian highlands against the occupation of Chile during the Pacific War (1879-1883), and being general of the Peruvian army. He was known as Taita Caceres and The wizard of the Andes. He spoke Quechua, and he is considered the patron saint of the infantry of the Peruvian Army.