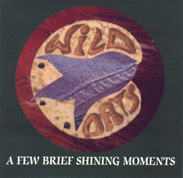 copyright 1998,2001 D. Glenn Arthur Jr. and Anne Gerlach
last updated 2001-09-10
The Waiting Is Over ....

FOLK ROCK IS ... uh ... Back AGAIN!

Wild Oats
Back out of the basement, and this time into your stereo!
(Netscape users: you probably can't see the funky grey background image on this page, but you -- and everyone else -- can click here to see Anne's colour poster it came from!)
Top Lineup Tracklist Ordering Links Contact
Although the band broke up in 1998, East Coast folk-rock band Wild Oats is now available on CD in the 2000 release from Snugglebunny Studios, A Few Brief Shining Moments, recorded at Balticon in 1997
Wild Oats was a folk-rock band based in the Washington, D.C. metropolitan area featuring some old favourites, some unusual arrangements, and some originals. Our influences ranged from medieval and renaissance music through classic rock and psychedelia, with a solid dose of Celtic traditional and blues in the middle.
Who were we? While there were several personnel changes over the course of the bands existence (mostly changes of vocalists), most of the time we were basically a trio or quartet trying to pretend to be a sextet... so some of us were doing more than one thing at a time (but no, we didn't play all of these at the same time -- it just felt like it). Here's the lineup at the time of this recording:
Top History Tracklist Ordering Links Contact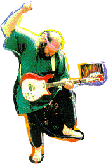 Maugorn The Stray (aka Steve Haug) sings and plays a vast array of instruments. In Wild Oats, he played guitar, mandolin, harmonica, banjo, electric bouzouki, tenor banjo, and recorder. (Hey Maug, did I leave anything out?) On this album you'll hear him on acoustic and electric 12-string guitars, banjo, harmonica, and siren-whistle.

Glenn also plays a wide variety of instruments, but stuck to folk, classical, and electric guitar, bass, recorder, bowed psaltery, and percussion in Wild Oats. Of those, he can be heard playing classical and electric guitar, bass, and drums on A Few Brief Shining Moments.
Anne sings and plays synth, accordion, and hand percussion. She provided the vocals in Wild Oats, and can be heard here playing synth, slide whistle, drum, and assorted hand percussion. She also co-wrote half the songs on this album with Maugorn. (An additional two are by Maugorn alone.)
Top History Lineup Ordering Links Contact
Songs on A Few Brief Shining Moments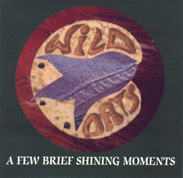 Tulip & Jasmine (Gerlach & Haug)
The Fire Of Parnassus (Gerlach & Haug)
Enchanted Gypsy (Donovan)
The Onion Song (Gerlach & Haug)
Teddy's Last Stand (Haug)
Iolanthe (Gerlach & Haug)
Boomerangs In The Dark (Haug)
Who Knows Where The Time Goes? (Sandy Denny)
Top History Lineup Tracklist Links Contact
To order your copy of A Few Brief Shining Moments, [ORDERING INSTRUCTIONS GO HERE]
Top History Lineup Tracklist Ordering Contact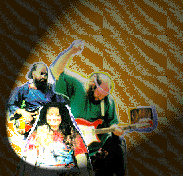 Top History Lineup Tracklist Ordering Links
(* Email page maintainer * What's new here * Map of this site * Humour *)