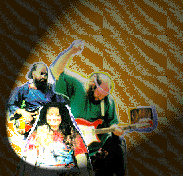 copyright 1998, D. Glenn Arthur Jr. and Anne Gerlach last updated 19 July, 1998

The Waiting Is Over ....

FOLK ROCK IS BACK!

Wild Oats
News: Glenn has left the band -- new drummer not yet named. Applicants please contact Maugorn.
Out of the basement and into the spotlight!
Want to receive mailings about upcoming performances? Drop us a line.
Wild Oats is a folk-rock band based in the Washington, D.C. metropolitan area featuring some old favourites, some unusual arrangements, and some originals. Our influences range from early music through psychedelia with a solid dose of Celtic traditional and blues in the middle.
Who does what? Funny you should ask -- Think of us as a quartet trying to pretend to be a sextet... so sometimes we're doing more than one thing at a time (but no, we don't play all of these at the same time):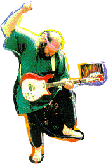 Maugorn The Stray (aka Steve Haug) sings and plays guitar, mandolin, harmonica, banjo, electric bouzouki, tenor banjo, and recorder. (Hey Maug, did I leave anything out?)

Christi plays flute, synth, and electric piano.
Lynn, our newest member (no photo yet, but we'll get one and put it here), plays guitar and sings.
To find out what sorts of songs we play, take a look at set lists from past shows.
To contact us, call Maugorn (Steve Haug) at (703) 960-1859 or send email to maugorn@aol.com.
(* Email page maintainer * What's new here * Map of this site * Humour *)