ELIZABETH K. GOLDFARB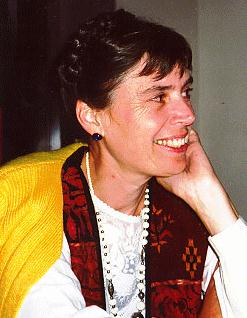 Liz Goldfarb is a school librarian at Booker T. Washington Middle School (MS 54) in Harlem. Liz was formerly a librarian and staff developer for New Visions for Public Schools. She is married to David Goldfarb. Their son Daniel is a a freelance photographer.
EMPLOYMENT:
Booker T. Washington Middle School (MS 54): School Librarian (September 2001 - present)
Staten Island Children's Museum: consultant (2000-2001)
New Visions for Public Schools
formerly The New York City Fund for Public Education, Inc.;
The Library Power Project-Staff Developer (1990-2001)
Library Power was a public-private initiative of the DeWitt Wallace-Readers Digest Fund which creates and revitalizes public school libraries. As Staff Developer I work directly with 37 school librarians, teachers and students on location in their schools. I also provide monthly training for the 147 librarians in the city-wide program. I work directly with two schools for the severely and profoundly handicapped and for deaf and hearing impaired students as well as satellite schools serving special populations, including language impaired and delayed students, autistic students and mainstreamed special populations.
Adjunct Lecturer, The College of Staten Island, School of Education, Graduate Department of Special Education. EDP630: Special Education Practicum. January 1995-June 1998.
The Berkeley Carroll School
Curriculum Coordinator and Elementary School Librarian (1984-1990)
Librarian with increasing levels of responsibility including Children's Librarian, Reference Librarian, and Supervising Branch Librarian.
---
EDUCATIONAL BACKGROUND:
---
PUBLICATIONS:
"Signing Shakespeare: Romeo Loves Juliet," Perspectives in education and deafness, Vol. 13, No. 3. Jan-Feb.1995. [Describes the teaching of Shakespeare to deaf and hearing impaired teens at JHS 47 in Manhattan.]
"Enhancing Language Arts for Special Populations: Librarians & Classroom Teachers Collaborate," Language Arts, Vol. 70, November 1993. [Describes activities with children from severely and profoundly handicapped to mainstreamed special populations in New York City public elementary schools.]
"Every Child Singing: A Holistic Approach to Music Instruction for the Young Child," Crossroads, Vol. 1 No. 1 June 1989.
Appraisal, Science Books for Young People. Regular reviewer 1987 to the present.
Kirkus Reviews, 1985-present. Reviewed moer than 1,000 books for children and young adults.
BookWiz, the computerized annotated book selection guide for teens (The Educational Testing Service, Princeton) Consultant for titles and reviewer.
The Grapevine: The Literary Magazine of the Residents of Hospitality House, Community volunteer editor of bi-monthly magazine which published stores, prose, poems and art created by children in a Tier 2 Homeless Shelter.
Kidstuff, A Treasury of Early Childhood Enrichment Materials. Contributing editor for the issues "Vegetable Jamboree" (1987) and "Zoo Animals" (1987).
---
PRESENTATIONS:
Association for Childhood Education International (ACEI)
"Quilts for AIDS Babies, and Other Projects to Teach Social Responsibility" Conference, Washington, DC, April 1995.
"Research Express: Teaching Elementary School Students Research Strategies." Conference, Washington, DC, April 1995.
"Reaching Out to Special Populations with Library Power," Conference, New Orleans, LA, March 1994.
"Oral History Projects & Language Arts in Library Power Schools," Conference, New Orleans, LA, March 1994.
American Association of School Librarians
"Yes We Can: Librarians Serving the Special Child," Seventh National Conference, Indianapolis, IN, November 1994.
"Sing it, Say it, Act it out! Enhancing Oral Language Development," Conference, Baltimore, MD, October 1992.
New York Library Association-School Library Media Section
"Rethinking the Elementary Library Media Program: What's in It for Kids? What's in It for Teachers?" Conference, Saratoga Springs, NY, May 1994
National Council of Teachers of English
"Every Which Way To Learn," Conference, Richmond, VA, March 1993.
New York State Reading Association
"Celebrating Story: Parent and child storytelling workshops to enhance literacy," Conference, Kiamesha Lake, NY, November 1992.
"Happily Ever After: Using Folk and Fairy Tales to Enhance Literacy," Conference, Kiamesha Lake, NY, November 1992.
---
---

Liz Goldfarb