Welcome to SignSynth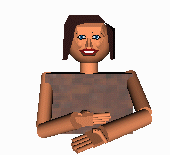 SignSynth is a pilot program currently under development which allows interactive synthesis of signed languages using VRML (now known as Web3D) and Perl. This is a SignSynth demo site.
To view VRML/Web3D files, you need to download a browser such as Cortona or FreeWRL.
The Fingerspelling Module can fingerspell any word which uses the Roman alphabet. It currently has no support for coarticulation or loan signs.
The Multi-Hold ASCII-Stokoe Conversion Module can generate many signs using Stokoe parameters.
The ASCII-Stokoe Interpreter can take actual Stokoe notation (as in the Dictionary of American Sign Language), as well as ad hoc Facial and Body Parameters.
---
The SignSynth Home Page is at http://www.panix.com/~grvsmth/signsynth/.
SignSynth comes with ABSOLUTELY NO WARRANTY. This is free software, and you are welcome to redistribute it under certain conditions; see the GNU Public License for details.
SignSynth is created by Angus B. Grieve-Smith. Questions or comments? Email me: grvsmth@panix.com.