AFTER THE PAINT HAS DRIED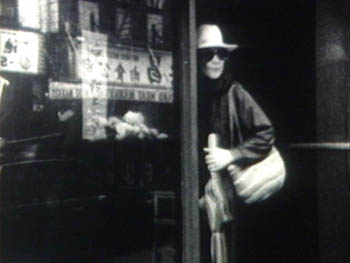 After The Paint Has Dried is about storytelling as a personal communication process, both overt and subtextual. The film concerns itself less with the actual stories than with the function of getting and giving attention and the nature of people's interest in each other.
Everyday New York street scenes are used repetitively to suggest fragments of a dramatic narrative. Interrupted stories; casual sounds that suggest something has happened or will happen; crowd noise that reflects rising and falling interest; and a rhythmic text read by three voices compose the soundtrack.
The sound and image merge to create the sense of attempting to capture attention. This process serves to both control the listener as well as reveal the storyteller. Yet its outcome is ambiguous, reflecting the less than final understanding that knowing someone through their stories involves.
15:00 minutes © 1986
b&w/optical sound 16mm film
What people have said
"Rohesia Hamilton Metcalfe's After The Paint Has Dried, a mesmerizing film of richly tactile black and white images in constant states of transition. The attempt to grasp and name these elusive points of transition is one of the primary subjects of the film. We hear a male voice-over telling a story of meeting a woman at a party. She gives him her phone number. He calls. At the same moment he admits to himself that he doesn't want to deal with rejection. An answering service picks up. In a panic, he decides to leave a message for Ernest Borgnine; only to find that it is in fact, Ernest Borgnine's service. The story trails off...
There is a double edge to After The Paint Has Dried. Though it is successful at sustaining an undulating, and at times even poetic tone, equally it is a work that demands constant assimilation of highly intuitive properties. At the same moment one allows oneself to be taken in or enjoy the passive pleasure of its soft voice, it taps into our fragmented and abstracted recollections to ask us for a set of revised perceptions. There is a wide shot of an older woman walking to the corner in the rain, holding an umbrella. There is a sense we're watching her from the window, and a sense that we've seen her outside of our own windows. These images seem to have a heartbeat: a collective unconscious."
- Sharon Greytak
Signs of Fiction, essay accompanying exhibition at Artists Space, New York, 1989
"After The Paint Has Dried is by a transplanted [New Zealander] who has lived in New York for a few years. This is relevant because this work appears to be a recreation of that individual experience. The callous city, the brash people, the intensity and hyperactivity are all layered in this affecting work."
- John Columbus
Director, Black Maria Film and Video Festival

Writer, director, editor: Rohesia Hamilton Metcalfe
Voiceovers: Carole Buggé, Anthony Moore, Terry Sommer
Cast: Kate Shepherd, Catherine Beall, Bob Beswick, Ted Seth Jacobs, Anthony Moore, Kathleen MacKenzie, Adrianna Keathley, Russell Dumas, Ruth Deutsch, Matt Mundinger, Cynthia Bullock, Victoria Ginn, Les Forshey
Selected Screenings:
Experi Festival, Bonn, Germany
Montecatini Mostra International di Cinema, Italy
Centre for Contemporary Arts, Warsaw, Poland
Artists Space, New York
The Millennium, New York
Black Maria Film Festival, NY/NJ
Awards:
Director's Citation Award, Black Maria Film Festival, 1987
Distribution:
Filmmakers' Coop (USA)
Lux Centre for Film, Video and Digital Arts (UK)