EVERYONE MUST TIGHTEN THEIR BELTS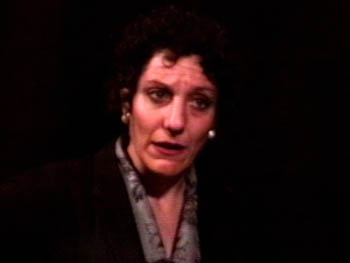 Everyone Must Tighten Their Belts is a whimsical video in which a late-night television interviewer attempts to get an unusually wordy guest (a labor relations expert of sorts) to explain the relationship between unemployment and inflation.
The language is repetitive to the point of becoming almost abstract in its rhythms—setting up an interplay between the ideas and the aural pleasures of the text.
4:30 minutes © 1997
color/sound video (NTSC); 3/4"
What people have said
" Political filibuster is taken on [...] the expert evades the question by re-iterating it, until her speech becomes a rhythmic pattern of hollow repetition. "
- Lauren Cornell
Essay for Elusive Quality
New York & Liverpool, 2004
"...a pithy, satirical piece..."
- John Columbus
Director, Black Maria Film and Video Festival
Writer, director, editor: Rohesia Hamilton Metcalfe
Actors: Deborah Auer, Anthony Moore
Production:
Everyone Must Tighten Their Belts was produced with the support of Downtown Community Television
Selected Screenings:
F.A.C.T. Liverpool, UK
Participant, Inc., New York—Elusive Quality
The Millennium, New York
Black Maria Festival, NJ/NY
International Women's Video Festival, New Zealand
Awards:
Winner, DIRECTOR'S CHOICE AWARD, Black Maria Film and Video Festival, 1998