PEACE IS...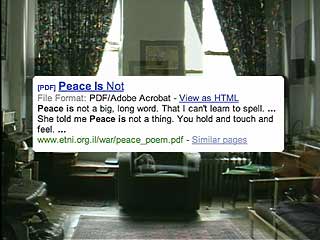 Peace Is...
is a video using texts found on a September 20, 2006 search on Google for "Peace is" as a meditation on the consciousness of the crowd at this moment in time.
Peace Is... was made for the FOR LIFE AGAINST THE WAR! AGAIN! program organized by Lynne Sachs as a collective outcry in the name of peace during the war in Iraq. Filmmakers were invited to contribute a short film (3 minutes or less), echoing the original For Life Against the War! initiative forty years earlier.
3:00 minutes © 2006
color/silent; digital video
For Life, Against the War boldly announces that artists can take a stand, again and again.
- Steve Seid
Curator, Pacific Film Archive, Berkeley Art Museum
For Life Against the War! Again! Filmmakers:
Jeffrey Skoller, Elle Burchill, Artemis Willis, Julie Talen, Sheri Milner, Ernie Larsen, Jim Costanzo, Ken Jacobs, Barbara Hammer, Mark Street, Lynn Kirby, Jeanne Finley, John Muse, Martha Rosler, Grahame Weinbren, MM Serra, Les Leveque, Cynthia Madansky, Jeff Silva, Lili White, Alfred Guzetti, Lynne Sachs, Martha Gorzycki, Douglas Katelus, Bosko Blagojevic, Bradley Eros, Rohesia Hamilton Metcalfe, Bill Morrison, Aylon Ben-Ami, Kevin Berry, Cara Weiner
DVD curator: Lynne Sachs
DVD project manager: Lili White
DVD tech programmer: Bosko Blagojevic
Poster & cover design: Ben Oldenburg
Selected Screenings:
Collective Unconscious (New York)
Anthology Film Archives
Le Petit Versailles (New York)
Pacific Film Archives (Berkeley, CA)
Cinema Project (Oregon)
Harvard Film Archive
Distribution:
The full DVD of For Life Against the War! Again! is available from the Filmmakers Coop