Jonathan's Little Corner : Biography
---

Here's a photo of us taken by Mitchell Baker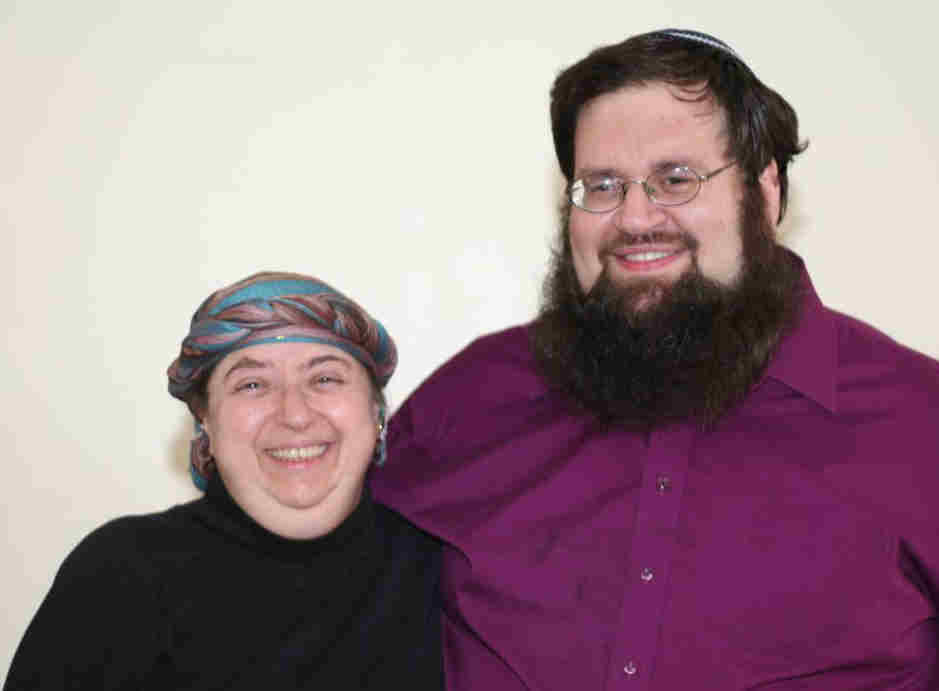 ---
From the Congregation B'nai Jacob Dinner Journal, 1999, as amended and expanded.
Debra was born in 1963 in Brooklyn, NY, the third of four children and the only daughter. She lived in Midwood until 1976, where she attended PS 255 and then Cunningham Junior High School. During those years she began to acquire her lifelong love of science fiction and of reading and books in general.
In 1976, she and her family moved to New Jersey, where they would live for the next thirteen years. Her academic career continued undistingished until she completed a degree in history at Rutgers University. She would eventually obtain teaching certificates in various subjects but remained a substitute teacher, and her interest in science fiction fandom grew.
In 1989 she began attending science fiction conventions, during which time she met a heretofore unknown species - The Modern Orthodox Jew, in the persons of several science fiction fans, including an engaged couple. For the first time in her life, she realized that it was possible to be a committed, religious Jew, involved in the world. This gave her something to chew on for several months.
Born in 1965 (on the same day as Debra's younger brother) to Reconstructionist schoolteachers, Jonathan attended the Ramaz School, where he often read under the desk, but later ran the school's Scout Troop. His presence here validates much of Ramaz' mission.
After graduating from Princeton in 1987 with a bachelors' in Engineering and a minor in History of Science, he returned to his parents' home and started his present programming job at Information Builders. His bachelor's thesis was a simulation of, and consideration of, the IBM 650, advised by Michael Mahoney. In 1993, he completed an MS in Computer Science at NYU, and he & Debra celebrated with a Game Plate at Levana's.
In 1989, Jonathan & Debra met at a science fiction convention in Philadelphia, through the Jewish SF Society. One person's question that day, "How long have you been married?" put the right thoughts into their heads. 16 months later, that came true. During their courtship, Debra began attending Lincoln Square Synagogue and its Beginner's Minyan, and started to learn Hebrew.
On March 10, 1991, they were married. After a honeymoon in Bermuda, they settled down in their 4th Street apartment and joined the B'nai Jacob community. On their very first Shabbat, they attended Max Krakauer's bris, so they were involved in the family from the very beginning.
They've been members of CBJ for eight years, and are glad to be a part of this unique, welcoming institution. Jonathan serves on the Board and on the Building and Eruv Committees. He has developed his public side, leading services and giving divrei Torah, and most recently through encouraging the practice of Seudah Shlishit. Debra has served on the Education and Special Events committees, teaches some of the Rosh Chodesh classes, tells stories to the synagogue's children. They continue to grow intellectually - Jonathan takes advanced Talmud at Lincoln Square Synagogue, and Debra learns at Drisha Institute. Both learn regularly with independent study partners.
---