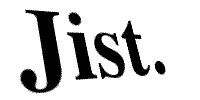 Jist is another interactive image-distortion toy I'm writing in my spare time. When completed, it will be shareware; for now it's just going to be fun.

Be warned: this is pre-release, pre-beta software. Please read the readmeplease file.

http://support.apple.com/).

If you use Jist even once, please send me email describing your favourite cheese. If you have no favourite cheese, a different foodstuff may be substituted.
---
Sam Bushell, jsam@pobox.com. Created: 25 April 1996.