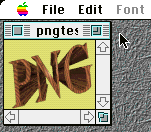 Portable Network Graphics Importer
This software is out of date.

QuickTime versions 3.0 and later have built-in PNG support. You don't need to download this software to be able to view PNG files on a computer with QuickTime 3.0 or later installed. It's only here for reference purposes.

PNG Graphics Importer 1.0b6 (83K stuffed binhex)
Can't find any neat PNG files to look at? Here are some samples:
For more information on Portable Network Graphics, see the PNG home page.
---
Copyright 1996,2000 Sam Bushell, jsam@pobox.com.
Created: 11 August 1996. Last modified: 21 January 2000.